Ebony Taylor always knew she wanted to serve her community. At the Forest Preserves' Conservation Corps Career Fair last month, she explored how she could do that in a career in the conservation and environmental fields.
On hold due to the pandemic for the last two years, the Career Fair returned on February 23 to the Brookfield Zoo's Discovery Center. Former and current Conservation Corps members like Taylor met with representatives from more than 15 environmental services-related employers to learn about the organizations, current job openings, and how to "sell" themselves as good prospective employees. For their part, the employers learned how Conservation Corps prepares participants to be desirable job candidates, including applicable skills and professional certifications.
Now 30 years old, Taylor said that from an early age, she saw other kids look up to her and found herself mentoring those who were younger. She thought she would become a teacher, then at Chicago State University, she switched her major to criminal justice. Growing up in Gresham, a predominantly Black neighborhood on Chicago's South Side, she liked the idea of being part of community policing.
While earning her degree, Taylor was also working her way up the ladder in the Conservation Corps. She started as a crew leader over the summer with the Chicago Conservation Leadership Corps program, then moved to the Friends of the Forest Preserves' Trails team, where she started as a six-month trails crew member and today serves as a full-time crew manager.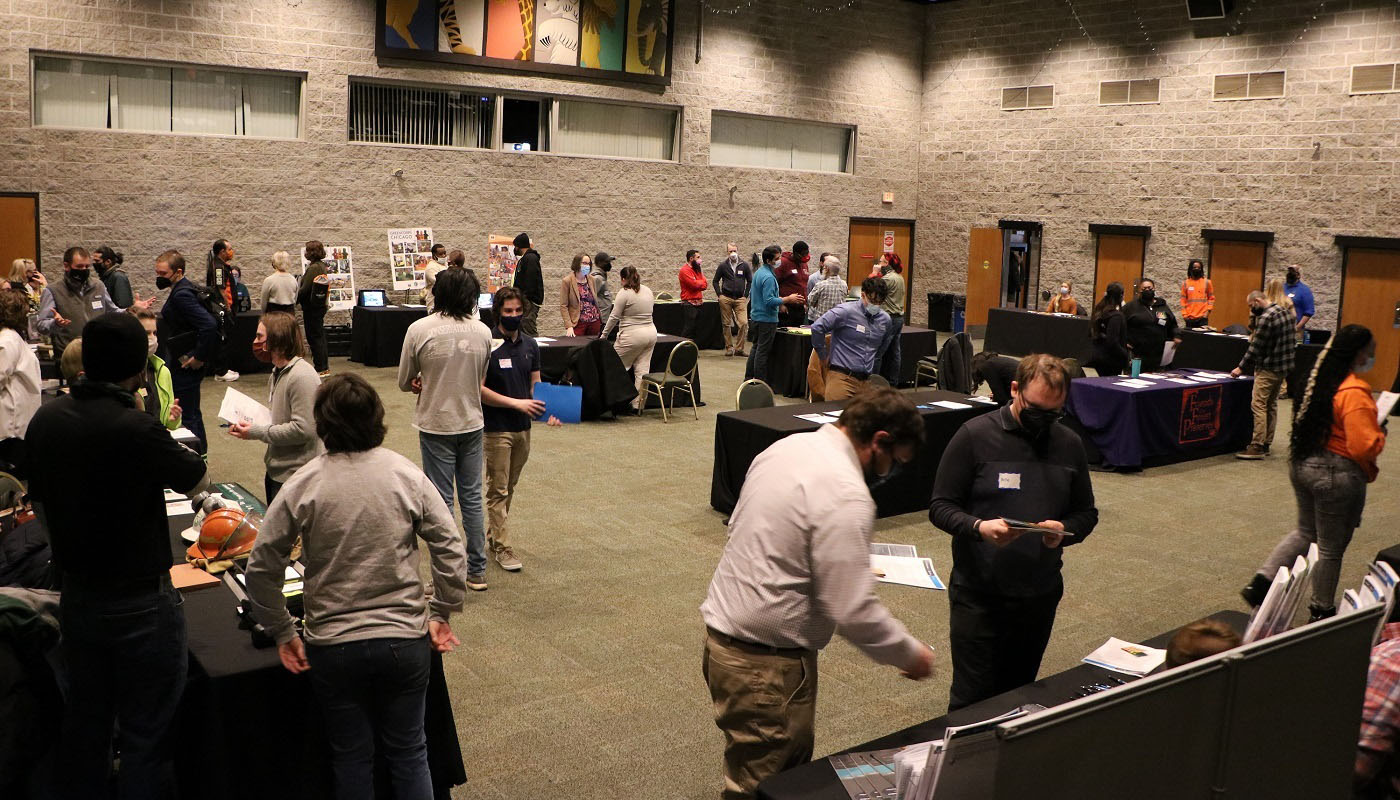 So when Taylor arrived at for the Career Fair, she made a beeline to the Forest Preserves Police table. "I feel like what I do now is protecting the Preserves," Taylor said. "We do work in areas where neighbors come by and ask questions, and we need to be able to answer and give them interesting facts when they want to learn more about what we do. I think I can take that experience and apply it to the Forest Preserves Police Department.
"I wanted to get in-person advice as to how [the Forest Preserves police officers'] career was going and get advice on things I could do to heighten my chances of getting into the field," said Taylor. "I also talked to the Chicago Park District about a couple positions. The fair was very informative and interesting."
Although Taylor always enjoyed walks outside, she said before she joined the Corps, she hadn't considered using the trails in the Preserves. In fact, her experience with nature and the conservation field was limited before her first Conservation Corps job. During her time earning a bachelor's degree, she never thought her career path would land in conservation.
More than half of Conservation Corps participants are people of color, and the program and the Career Fair are part of the Forest Preserves' focus on equity and inclusion. "For various reasons, the conservation field is known nationally and locally to suffer from a lack of diversity. With Conservation Corps, the Forest Preserves and our partners aim to play a role in making environmentalism more diverse and more welcoming to everyone," said Forest Preserves General Superintendent Arnold Randall at the Career Fair.
So what is Taylor's advice to anyone considering applying for Conservation Corps?
"Enjoy the outdoors—take time to just go out and enjoy the outdoors. In the beginning, you think this is a small field, but it is slowly evolving and getting bigger," she said. "That's the amazing part about all of this."