Enjoy Forest Preserves trails with your on-leash dog or purchase a membership for our three Off-Leash Dog Areas.
On this page:
---
Where Can I Take My Dog?
Approved Locations
On-leash: On-leash dogs are allowed at any location or trail that is not on the prohibited list below. Locations, where you can walk your dog on a leash, will be marked with a Dogs (on-leash only) icon on maps and location pages on this website. View a web map of approved locations.
Off-leash: Dogs are welcome off-leash at our three Off-Leash Dog Areas with a membership. These are the only locations within the Forest Preserves where off-leash dogs are allowed.
---
Prohibited Locations
Dogs are not allowed at the following locations*:
Nature Center buildings, grounds and trails
Waterbodies (lakes, ponds and streams)
Inside Forest Preserves buildings
Any location where a sign indicates dogs are not allowed
*Service animals are permitted in most public areas on Forest Preserves property. Visit our accessibility page for more information about our service animal policy.
**Unless an official, marked trail travels through the Nature Preserve and the dog is on-leash.
---
Why can't I let my dog off-leash?
Owners of dogs found off-leash in the Forest Preserves (except at designated Off-Leash Dog Areas) can be fined up to $500 per offense.
Even well-behaved off-leash dogs can:
Chase or frighten wildlife—including endangered and protected species.
Interact with on-leash dogs, sometimes leading to conflict.
Leave waste without their owners noticing.
Approach visitors who do not want to interact with dogs.
---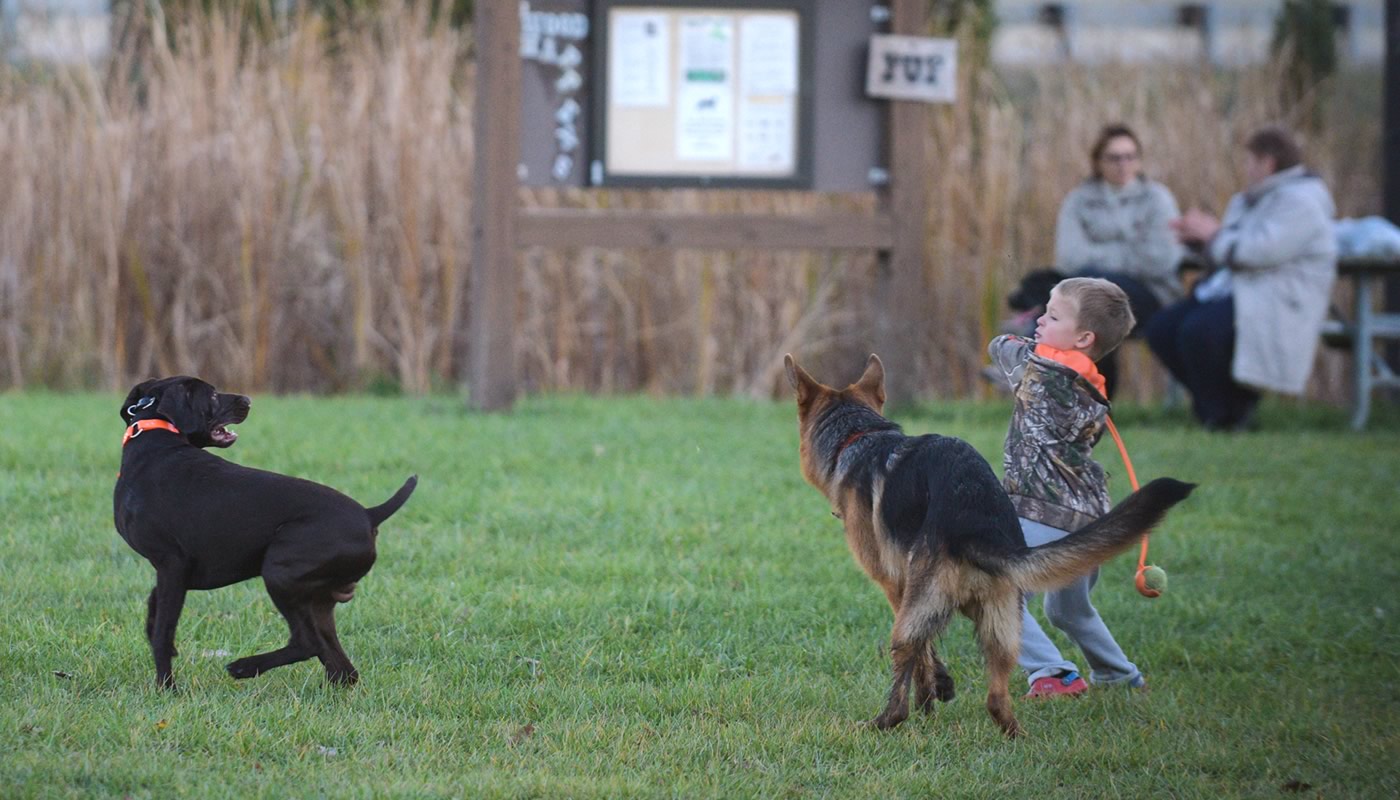 Off-Leash Dog Areas
---
Overview & Membership Fees
The Forest Preserves operates the Beck Lake, Bremen Grove and Miller Meadow Off-Leash Dog Areas—these are the only locations within the Forest Preserves where off-leash dogs are allowed. An annual membership is required to enter Off-Leash Dog Areas:
Each membership includes one metal key that provides access to all three Off-Leash Dog Areas.
Memberships are valid from October 1 through September 30 of the following year.
Please allow up to two weeks processing time from receipt of the application and Veterinarian Health Report (PDF).
A Veterinarian Health Form must be completed by a licensed veterinarian.
The Forest Preserves strongly recommends the Canine Influenza vaccination, although not required.
All vaccinations must be current and up to date at the time of application.
Submission of a negative fecal test for your dog(s) will be required within the calendar year in which you apply for your membership. However, this test must not expire less than 30 days from your application submission.
Off-Leash Dog Area Membership Fees

| Residency | Cost |
| --- | --- |
| Cook County Resident | $60/dog |
| Non-resident | $120/dog |
| Additional/Replacement Fee | $10 |
Please note: Membership fees are non-refundable, non-transferable and are not prorated.
For questions, please contact:
Monday – Friday: 8:30 am to 4:30 pm
800-870-3666 (option 1)

Saturday – Sunday: 5 am to 1:30 pm
708-839-5617 (Miller Meadow-South)
773-625-0606 (Beck Lake)
708-839-5617 (Bremen Grove)
---
Apply Online
Have your veterinarian complete the Veterinarian Health Report (PDF).
Apply online and submit payment.
Submit your completed Veterinarian Health Report via email (FPD.Permits@cookcountyil.gov) or mail (address below).
You must submit a Veterinarian Health Report in addition to your online application to receive your membership approval. Please allow up to two weeks processing time from the submission date of the Veterinarian Health Report.
Off-Leash Dog Area Maximum: The Forest Preserves allows a maximum of 3 dogs per member. Members with more than 3 dogs may be cited or banned from Off-Leash Dog Areas.
---
Apply In Person or By Mail
Submit your Off-Leash Dog Area Application and Veterinarian Health Report by mail or in person at Forest Preserves General Headquarters. Please allow up to two weeks processing time.
General Headquarters & Permit Office
536 N Harlem Ave
800-870-3666
The Forest Preserves General Headquarters is currently open Monday to Friday from 8:30 am to 6:30 pm and Saturday from 9:00 am to 1:30pm. Walk-ins are welcome, but we recommend booking an appointment.
---
Locations
These are the only locations within the Forest Preserves where off-leash dogs are allowed.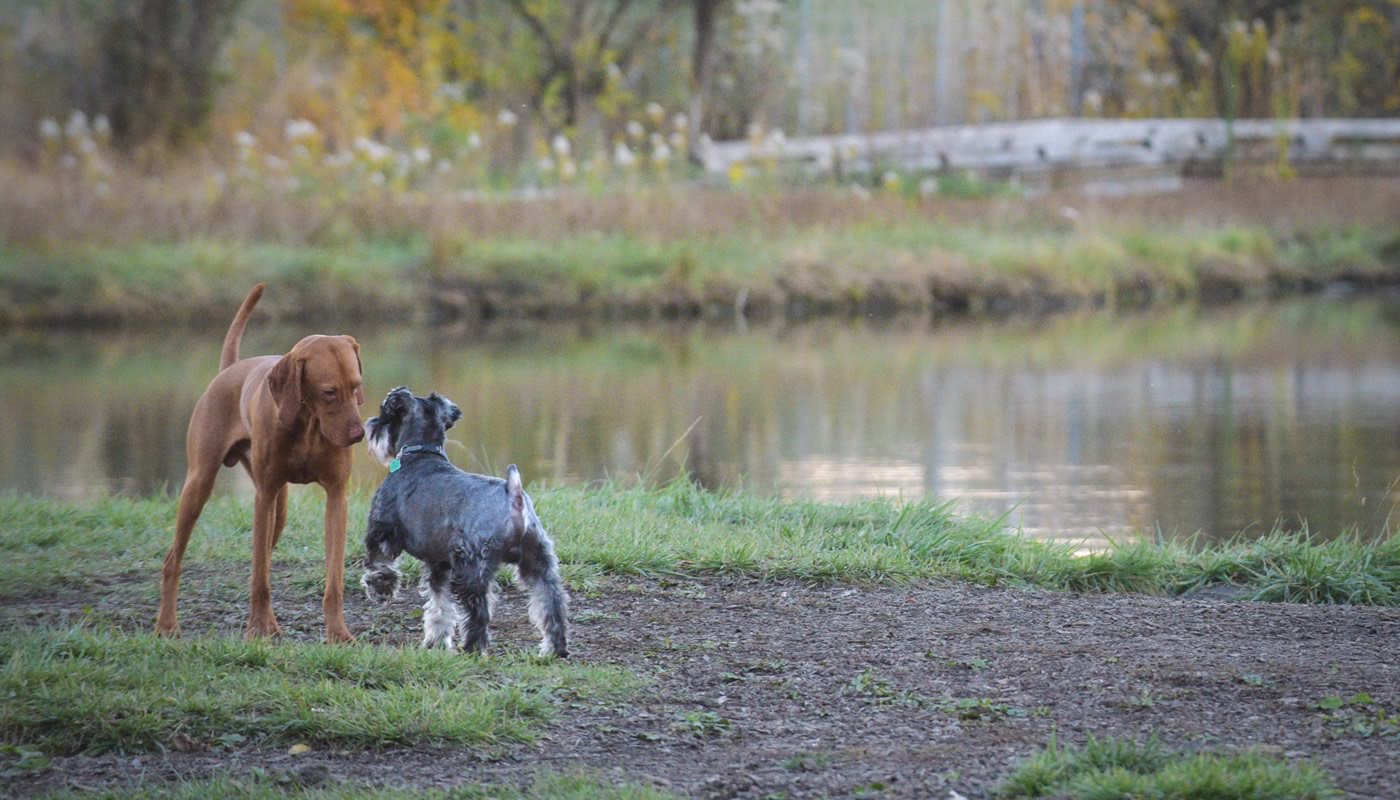 Beck Lake
East River Rd & Central Road
(near Des Plaines)
40 acres
Large pond
Outdoor shelter
Connected to 9 miles of trails (leash required)
---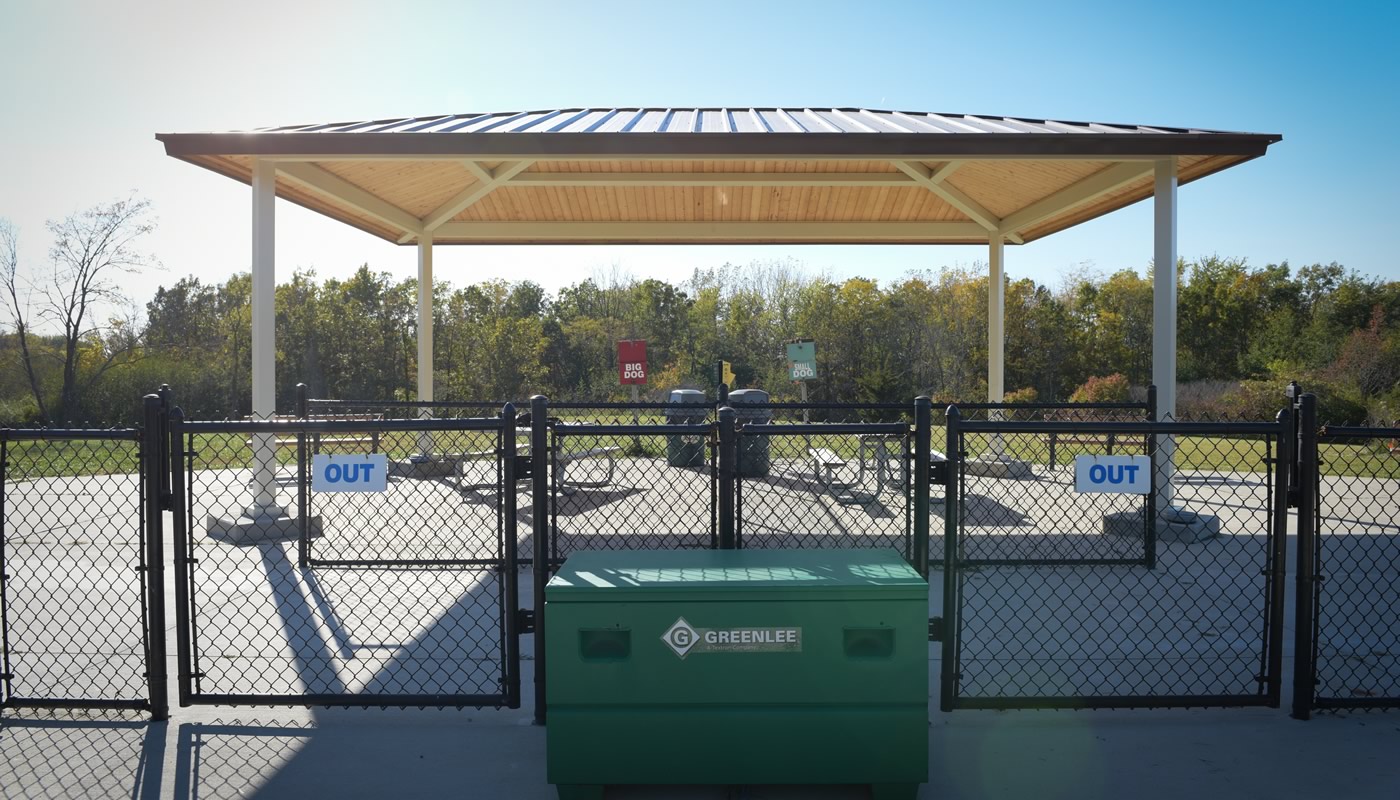 Bremen Grove
Oak Park Ave, south of 159th St
(near Tinley Park)
3 acres
Separate areas for large and small (under 25 pounds) dogs
Connected to 33 miles of trails (leash required)
---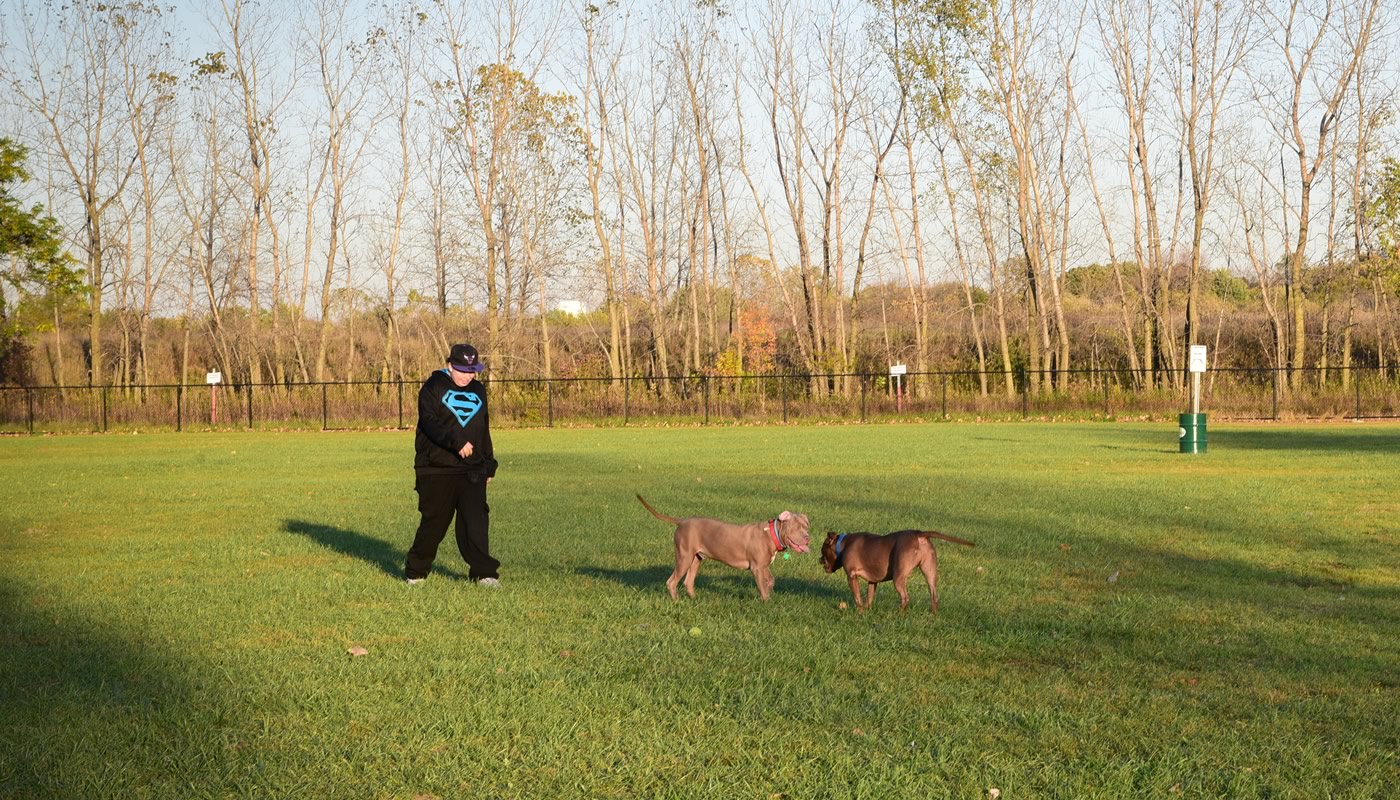 7 acres
Outdoor shelter
Connected to 2 miles of trails (leash required)
---
Rules and Regulations
Off-Leash Dog Area hours. Sunrise until Sunset
Use of Off-Leash Dog Areas is restricted to permit holders only. Each member is required to enter the gates individually using an approved key/card issued by Forest Preserves staff. Members should not open the gates for other patrons.
Owners/handlers are legally responsible for the behavior/actions of their dog(s). The dog owner/handler agrees to assume the full risk of any injuries, damages or loss connected with the use of the Off-Leash Dog Area.
Maximum of 3 dogs per person. Each dog must have an individual permit and only 3 dogs per person are allowed. Members with more than 3 dogs may be cited or banned from Off-Leash Dog Areas.
Leashed dogs are not allowed inside dog areas. Leashes can become a tripping hazard as pets start to play. Additionally, some pets may already experience fear/anxiety in a new environment. Keeping dogs on a leash may cause more insecurity because they know they cannot escape if they need to, and can trigger fights instead of avoiding them. However, dogs are required to be leashed outside of Off-Leash Dog Areas.
Do not bring prong/metal collars. Wearing prong collars in Off-Leash Dog Areas when dogs are playing rough can cause broken teeth/jaws and broken paws/legs. The entanglement of collars can cause harm to pets.
Smoking is not allowed in Off-Leash Dog Areas.
All dog owners/handlers may be ticketed for violating the Forest Preserves' general use ordinance if they are in an Off-Leash Dog Area without the proper permit.
Scoop the poop! Pick up after your dog(s). Parasites and bacteria can stay in the soil for years. By not picking up after your dog, you're putting other pets at risk for exposure to harmful bacteria. Although bags are provided, they may not always be available. Be sure to bring your own.
---
Safety and Aggressive Dogs
Dog activities are intended to provide a fun and rewarding experience for a dog and its owner/handler. However, despite careful and proper preparation, instruction, medical advice, conditioning and equipment; there are still safety risks in Off-Leash Dog Areas that can pose serious injury to dogs, owners/handlers or other persons or animals. Dogs are pack animals and when in Off-Leash Dog Areas, even the best-trained dogs may act instinctively. Understandably, not all hazards and dangers associated with dog activities can be foreseen.
Aggressive Dogs: In cases of aggressive dog situations, the best practice is to (1) try to talk with the owner of the aggressive dog to deescalate; (2) If the owner is not cooperative and the problem is serious, report to Forest Preserves Police at 708-771-1000 and provide a detailed description, date/time of the incident and photos (if any). For emergencies, call 911.
If you are the owner of a dog that may have injured another dog or person at the park:
After the dogs are safely separated, the best practice is to contact the other owner (when possible); ask whether the owner and dog are okay, and where appropriate, offer to pay for any damage caused (if any). Apologies or expressions of concern can go a long way to promote a civil atmosphere at the park.
If you experience an incident in an Off-Leash Dog Area, this does not mean your off-leash permit can or should be revoked. Situations are evaluated on a case-by-case basis.
Additional information and resources on dog park safety can be found on PetMD.
---
Volunteer Caretakers
Are you passionate about the dog community and the Off-Leash Dog Areas in the Forest Preserves? Off-Leash Dog Area Caretakers are the connectors between the dog community and the Forest Preserves. These volunteers act as ambassadors with a focus on community building and offer assistance to Forest Preserves staff on Off-Leash Dog Area volunteer recruitment, orientation, training, supplies and more.
---
Trail Rules & Etiquette
Use official, marked trails. Bicycle and horse riders are prohibited from riding off-trail or on unofficial trails. Off-trail and unofficial trail use—even by walkers and runners—damages plant and wildlife habitats.
Stay to the right. Ride or walk on the right side of the trail and stay single file whenever possible.
Pass safely. Give an audible warning (examples: ring a bike bell or say "on your left") and slow down before passing others. Pass in single file only. Ask permission to pass equestrians.
Yield to other trail users. Bicycle riders must yield to other types of trail users. Walkers and runners must yield to equestrians.
Keep your dog on-leash. Most trails allow dogs, but they must be on a leash, controlled by their owner and on the right side of the trail.
Make sure your ride is allowed. Check our web map to see where you can ride a horse or bike (including class 1 and 2 e-bikes). Not allowed anywhere: Class 3 e-bikes; electrically powered scooters, unicycles and hoverboards; and gas-powered vehicles such as ATVs or motorcycles. People with mobility limitations are allowed to use personal mobility devices.
Travel at a safe speed. Bicycle and e-bike riders must travel at speeds under 15 miles per hour—or slower in busy areas or where a speed limit is posted.
Pay attention to trail signs. Signs tell you which trail users are allowed and alert you to hazards or busy areas ahead.
Keep the trail clear. Do not block trails—move to the side of the trail before stopping.
Stay out of the mud. Avoid using wet trails—if you are leaving prints, you are damaging the trail.
Protect yourself. Helmets are recommended for all types of bicycle riders, especially for riders 14 and under.
Be polite and courteous. Our multi-use trails are for everyone.
Remember that trail use involves risk. Please review our Trail Risk Statement.
Nature Center Trails
Nature center trails are for walking only. Bicycles, pets, horses and cross-country skiing are not allowed.
Nature center trails are open only during posted nature center hours.
Equestrians
Walk your horse between the stable and trail.
Keep your horse under control—the only permitted gaits are walk, trot or slow canter. Galloping and racing are not permitted.
Slow to a walk or slow trot when meeting other trail users.
Do not hitch horses to trees or other vegetation.
Do not use paved trails.
Be humane and kind to your horse.
Stallions are not permitted on trails.