Whether you call it bicycling, biking or cycling, the Forest Preserves has a trail for you.
On this page:
---
Trail Information
Bike riders can enjoy over 100 miles of paved trails and over 200 miles of unpaved trails in the Forest Preserves.
---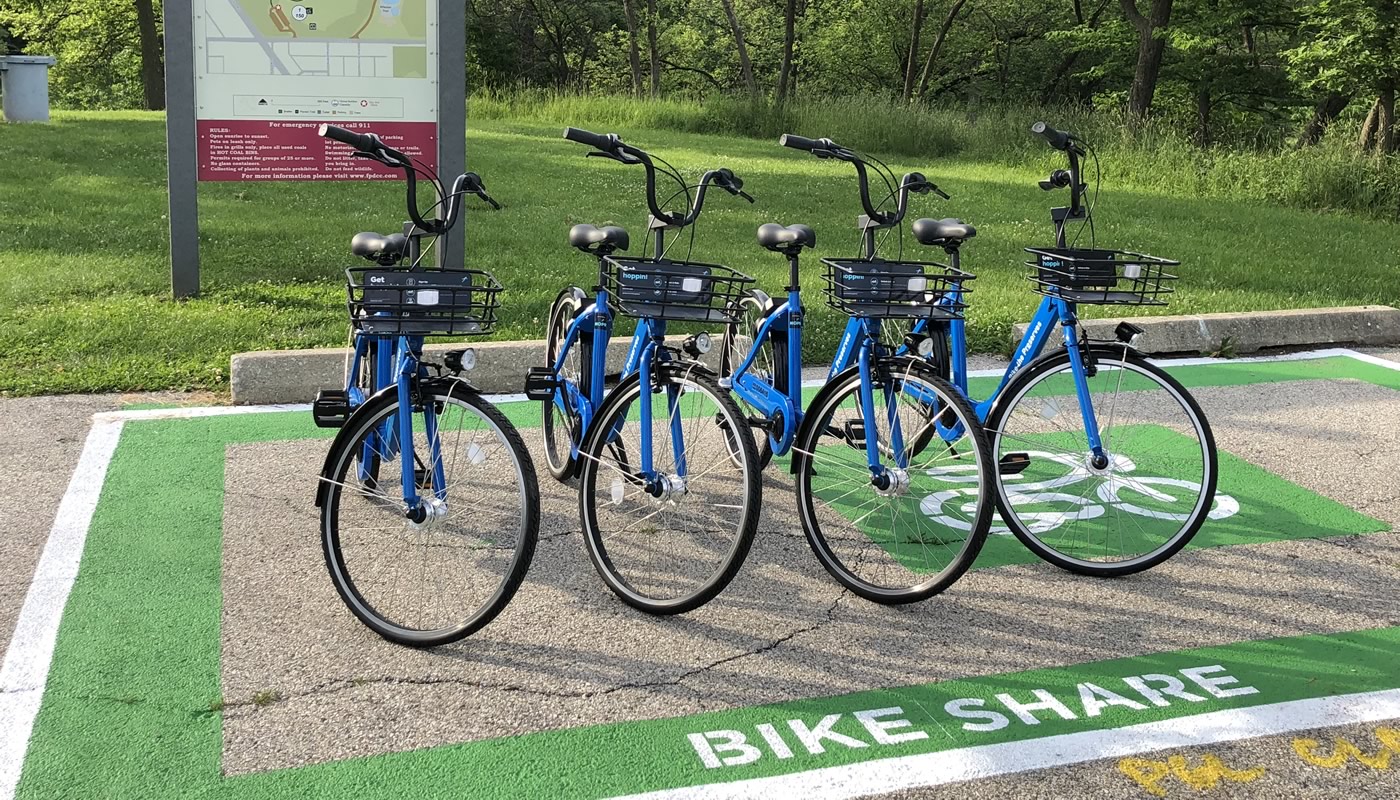 Bike Rental
The Forest Preserves has dockless bikes for rent at 23 locations through the HOPR app. Bike rentals start at $2.50 per 30 minutes. Bike rental season passes, which include 90 minutes of ride time a day, cost $60.
---
Free Hour of Bike Rental
All users can enjoy one hour of free bike rental, brought to you by the Forest Preserves of Cook County! Enter the code bikefpcc2019 in the HOPR app to have one free hour automatically applied to your account. One code per account, valid only during the 2019 season.
---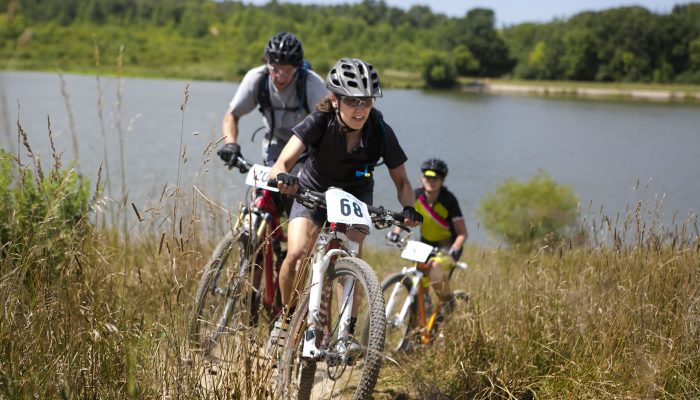 Mountain Biking at Palos
Rolling hills, deep ravines and beautiful views make the Palos Trail System one of the premier places for mountain biking in Illinois.
---
Trail Rules & Etiquette
Trail users are asked to be polite and courteous to fellow patrons.
Off-trail riding is prohibited.
Trail users must ride or walk on the right side of the trail.
Trail users must give an audible warning before passing others. Announce yourself and slow down to pass.
Patrons must obey all signs.
Speeding is not allowed.
Dogs must be leashed and in control on right side of trail.
Helmets are recommended for all riders, and required for riders 14 and under.
Bicyclists and horses must ride single-file.
Stop only on shoulder of the trail.
Ride at a responsible, controlled speed. No racing is allowed.
Trail use involves risk, please review our Trail Risk Statement.
Paved Trails
Trail users must stay in their own lane.
Bicycles must be walked down overpasses.
Equestrian use of paved trails is prohibited.
Unpaved Trails
Bicyclists and equestrians must stay on designated trails.
Bicyclists must yield to hikers and equestrians.
Hikers must yield to equestrians.
Trail users must ask permission to pass equestrians.
Trail usage is prohibited in muddy conditions.
Horses must be licensed.
Nature Center Trails
Nature Center trails are intended for walking. Bikes, pets, horses and cross-country skiing are not allowed.
Nature Center trails are open only during posted Nature Center hours.
Equestrians
Walk horses between stable and trail.
Slow to a walk or slow trot when meeting other riders, hikers or bicyclists.
Do not race horses—always keep horses under control.
Stallions are not permitted on trails.
Be humane and kind to your horse.
The only permitted gaits are walk, trot or slow canter. No galloping, please.
Horses may not be hitched to trees.