The Forest Preserves of Cook County's nearly 70,000 acres of woodlands, prairies and wetlands provide endless, year-round opportunities to get outside, get exercise and make a meaningful difference in your community. No matter if you're deeply familiar with your local preserve or want to start getting out in nature, we have a volunteer opportunity for you or your group. Everyone is welcome in the Forest Preserves!
On this page:
---
Find a Volunteer Opportunity
Forest Preserves volunteers include youth, adults, retirees, nature lovers, people who want to build job skills, people looking for a new experience, people who want to experience nature with a welcoming group—and everything in between. With all the diversity in our volunteer opportunities, there's bound to be an activity that's right for you!
---
---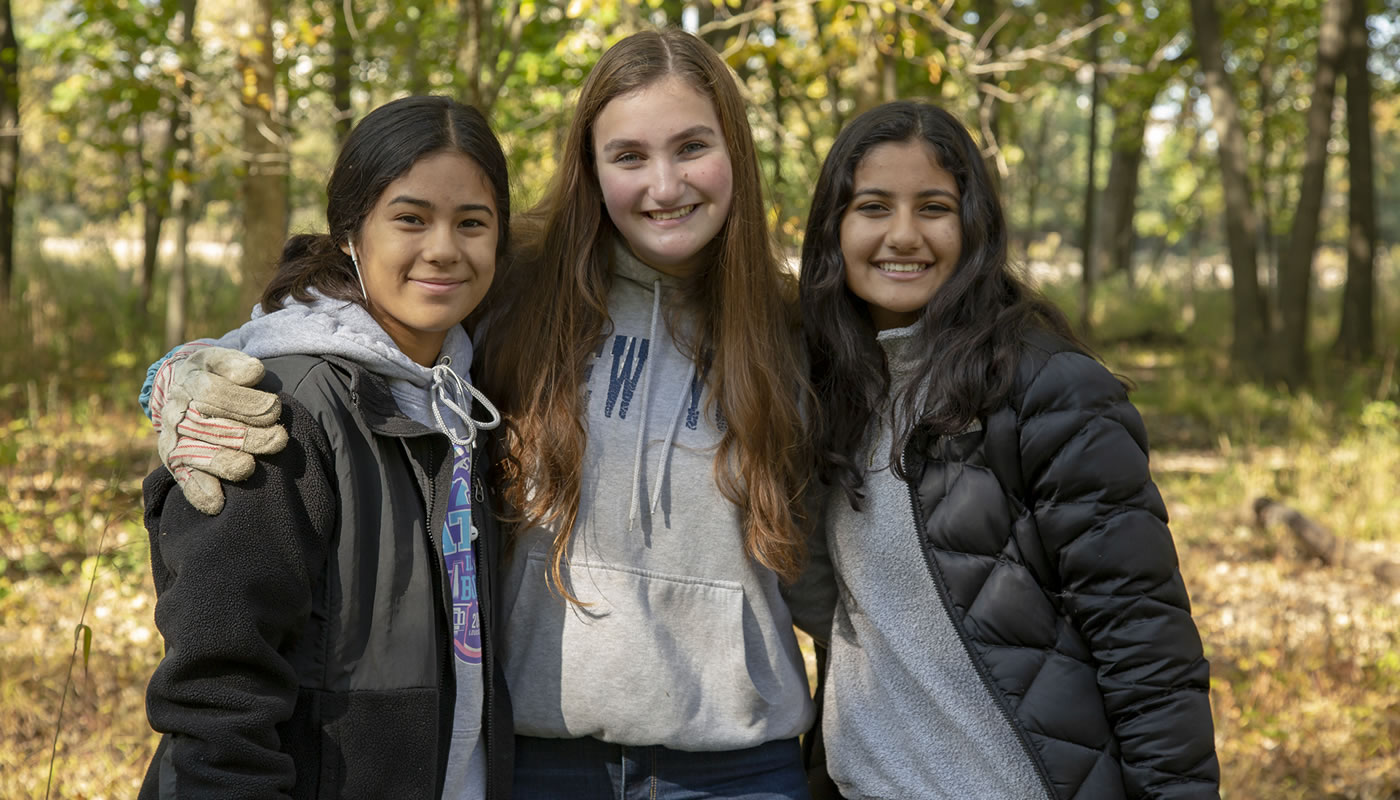 Benefits of Volunteering
Volunteering with the Forest Preserves means taking care of the land while you take care of yourself. Spending time outside in nature can help improve your mental and physical health. Volunteers learn about local nature as part of our volunteer community, as well as through formal training and professional development opportunities. And volunteers have the opportunity for personal growth, by trying activities outside of their comfort zone or discovering a new group of friends.
Volunteering with the Forest Preserves also means giving back to your community. Volunteers make visitors feel welcome in the Forest Preserves, support the ability of preserves to provide clean air and water, and protect these important natural areas now and for future generations. And volunteers restore and maintain diverse natural areas, making them resilient in the face of climate change impacts—helping people, plants, animals and other organisms adapt to warmer temperatures and extreme weather.
Volunteers can also earn Forest Preserves volunteer branded items, nature-related guides and books, and outdoor clothing and gear when you help us track volunteer impact by reporting your hours in our Online Volunteer System.
Whether you volunteer for personal growth, your community, or native plants and animals, we're glad you're here—and thank you.
Check out our People of the Preserves profiles to hear about the benefits of volunteering directly from our volunteers.
---
Online Volunteer System
The Forest Preserves uses an Online Volunteer System to help volunteers sign up for opportunities and report their hours. When volunteers report hours they can earn Forest Preserves volunteer branded items, nature related guides and books, and outdoor clothing and gear. Every volunteer that reports hours helps us track the impact of the thousands of volunteers that dedicate their time to the Forest Preserves.
---
Contact the Volunteer Resources Team
Our team supports volunteers with tools and supplies, training, and permits for all our volunteer programs. We are here to answer questions and help you prepare to volunteer in the Forest Preserves. Don't hesitate to reach out if you have a question, suggestion or concern.
Mathew Bieszczat Volunteer Resource Center
6100 N Central
Chicago, IL 60646 (view web map)
773-631-1790
volunteer.FPD@cookcountyil.gov
---
Thank You, Volunteers!
Our vibrant volunteer community is the result of efforts led by volunteers to improve the preserves that date back to the 1970s. Today, thousands of your neighbors volunteer in their local forest preserve, giving tens of thousands of hours of service to community-based conservation.
Whether you have volunteered for an hour or 20 years, you help continue this legacy of service and assure that future generations can explore a forest carpeted with spring wildflowers, a tallgrass prairie rippling in the wind or a wetland echoing with the calls of migrating birds—all in one of the most populated urban areas of the country.
Thank you to all our past, current and future volunteers. We appreciate your contribution to these wild and wonderful places in the Forest Preserves of Cook County.
As a thank you to our Forest Preserves volunteers, we invite you to go on an audio-guided forest therapy walk celebrating you: Belonging: Forest Therapy Walk.