River Trail Nature Center's free exhibits, walking trails and onsite nature educators help tell the story of the plants, animals and natural landscapes formed by the Des Plaines River. Learn how to make maple syrup, meet an owl or join a guided hike at all-ages events each week—or just let the kids climb and create at indoor and outdoor play areas.
On this page:
---
Novel Coronavirus (COVID-19) Closures & Cancellations
Nature Center grounds, trails and bathrooms are open seven days per week, from 8 am to 4 pm. Nature Center exhibit buildings remain closed. Drinking fountains are not available, please bring your own water. Parking capacity may be limited to help reduce crowding.

Learn more about COVID-19 cancellations and closures.
---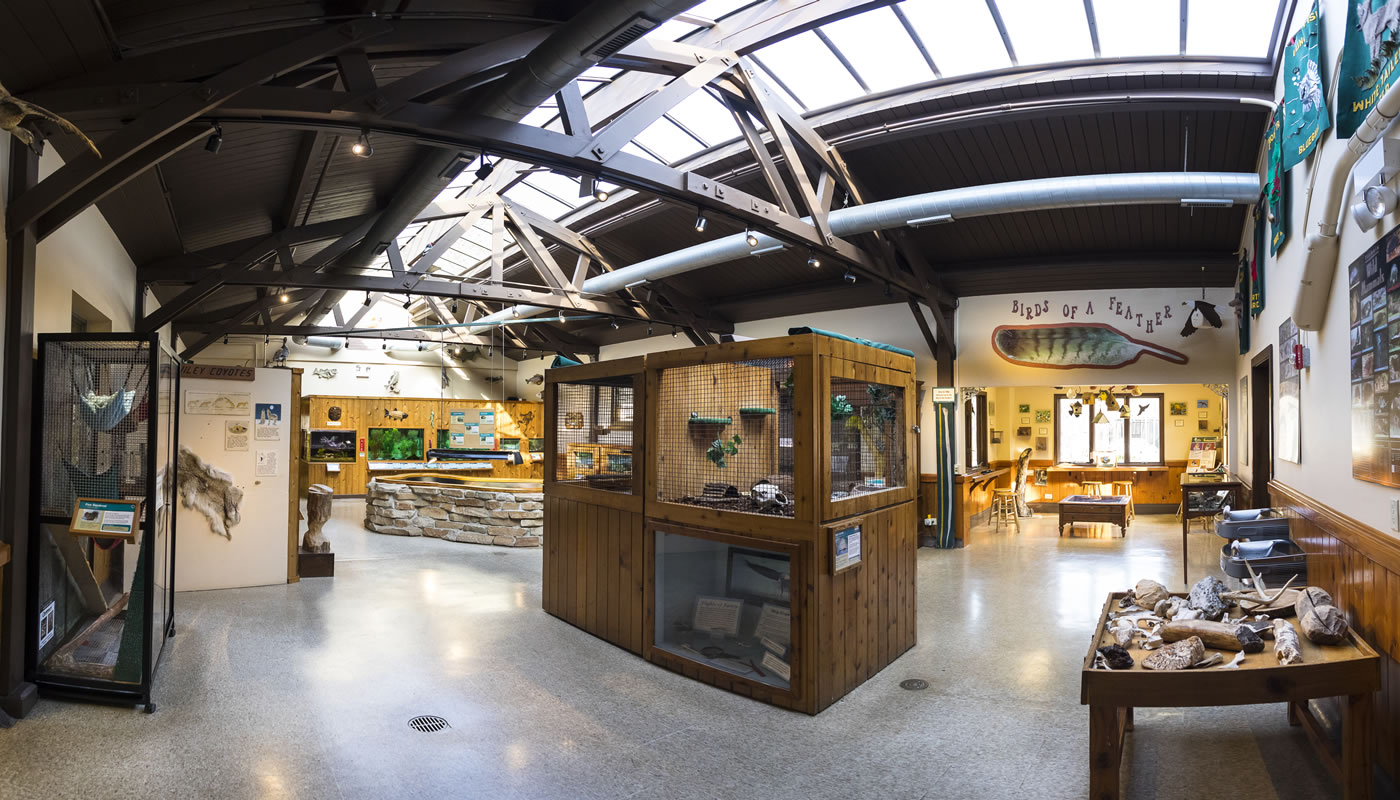 Location, Hours & Things to Do
River Trail Nature Center
Entrance
3120 Milwaukee Ave
Northbrook, IL 60062
Phone
847-824-8360
Things to Do & Amenities
Parking

Nature Play

Accessible Indoor Bathroom
Service dogs are allowed at most public locations. View accessibility policies.
Hours
Mar - Oct:
9am - 5pm, closed Fridays
Nov - Feb:
9am - 4pm, closed Fridays
Closed Thanksgiving, Christmas, New Year's Day
Closures & Alerts
---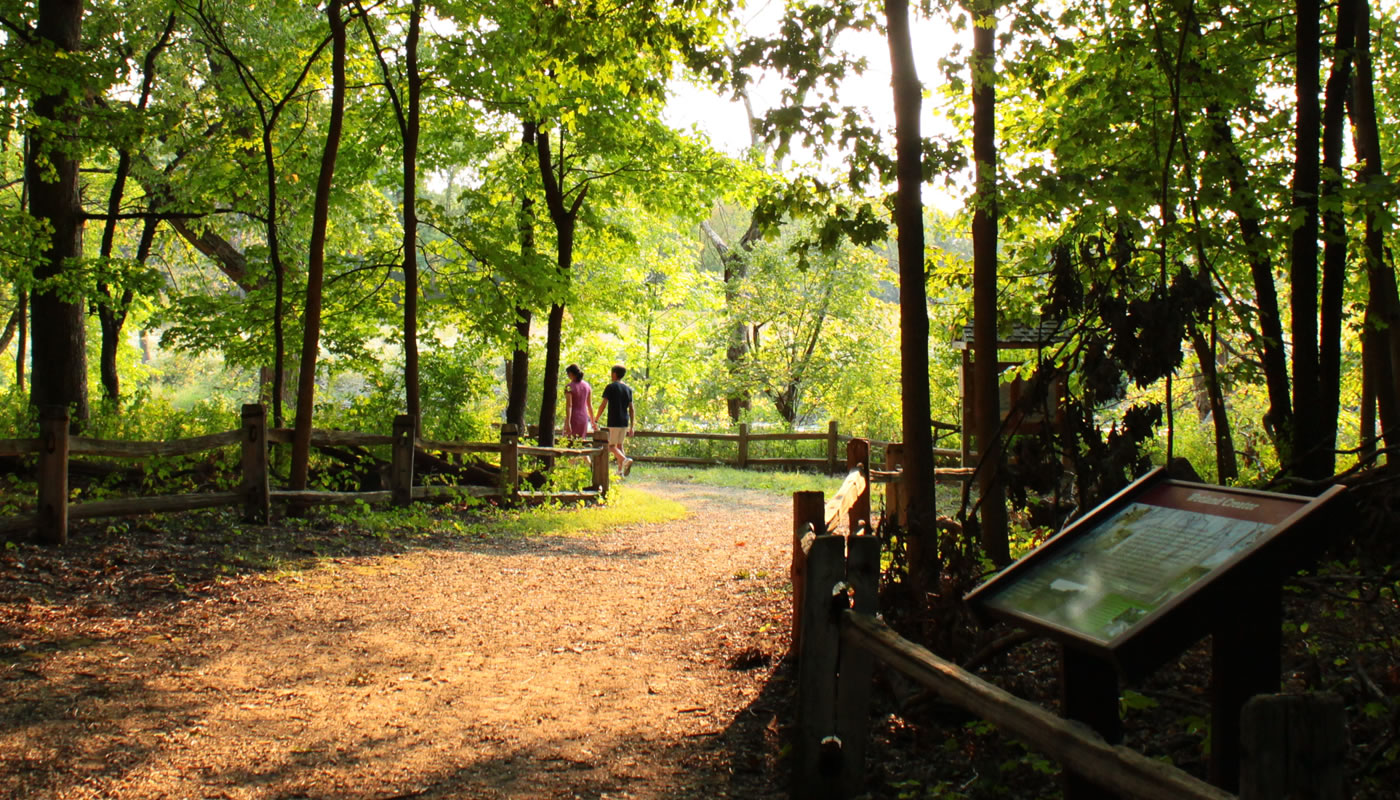 Trails
River Trail Nature Center Trails
Explore the River Trail Nature Center grounds on three walking trails or extend your walk on the Des Plaines Trail System.
Location: Northbrook
Surface
Unpaved
Estimated Total Length
1.7 miles
Hours
Mar - Oct:
8 am - 5 pm
Nov - Feb:
8 am - 4 pm
Closed Thanksgiving, Christmas, New Year's Day
Closures & Alerts
---
The unpaved Des Plaines Trail follows its namesake river through more than a dozen forest preserves, allowing visitors to enjoy casual strolls, full-day adventures and anything in between.
Location: Chicago, Des Plaines, Glenview, Melrose Park, Mount Prospect, Northbrook, Park Ridge, River Forest, Rosemont, Schiller Park & Wheeling
Surface
Paved & Unpaved
Estimated Total Length
28.4 miles
Hours
Year-round:
Sunrise to Sunset
Closures & Alerts
---
Events & Programs
---
Field Trips & Hybrid Learning
Our hybrid learning and field trip offerings allow teachers, parents and youth leaders to use forest preserves and nature centers as an outdoor (or virtual) classroom. Our hybrid learning programs serve kindergarten through 12th grade students and meet Next Generation Science Standards (NGSS), while our field trips serve everyone from pre-K to adult learners.
Contact one of our nature centers or experience.nature@cookcountyil.gov for more information or to discuss programs tailored to your learning objectives.
River Trail Nature Center
3120 Milwaukee Ave
847-824-8360
---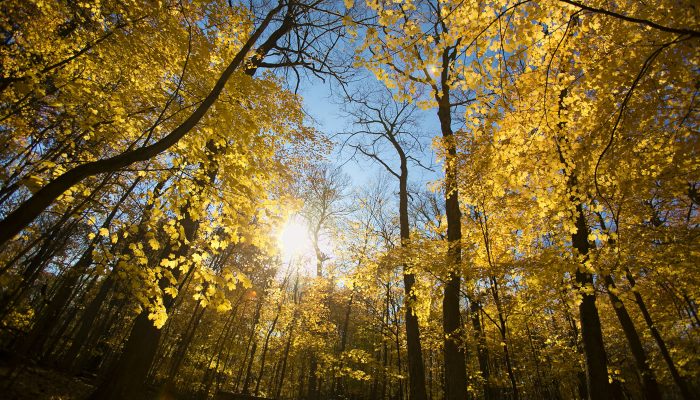 Nature Notes
Floodplain forest, backwater wetlands, oak-hickory woodland, and an ancient remnant of sugar maple-basswood forest make River Trail a mix of habitats for an amazing variety of birds, insects, plants and wildlife.
Visitors can experience this abundance of nature through 1.5 miles of walking trails that wind their way through the preserve.
---
Nature Center Rules
Pets are not permitted on Nature Center grounds, including the parking lots.
Nature Centers are unable to accept injured, orphaned or abandoned wildlife.
For your safety and for the protection of natural areas, please stay on marked trails. Trails are for hiking only.
Bicycles are only allowed in Nature Center parking lots, or at provided bike racks.
For the benefit of other visitors and wildlife, please maintain respectful noise levels at all times.
Picnicking is not permitted on Nature Center grounds. An adjacent picnic grove can be opened for pre-registered groups on weekdays.
Food or drink is not permitted in Nature Center buildings.
With the exception of water or sports bottles, food and drink are not permitted on Nature Center trails. Please dispose of litter in proper receptacles.
Collecting of any kind is prohibited, as is the use of metal detectors. The fine for picking wildflowers is $500.
For the protection of animals and visitors alike, please do not feed the wildlife.
Be mindful of closing times for trails, the Nature Center building and parking lot.
Please report safety hazards or suspicious activities to the Nature Center staff.
Cross-country skiing is not permitted on Nature Center trails.