Many Cook County residents are surprised to learn that the fishing lakes they enjoy in the Forest Preserves are not natural features of the landscape, but vestiges of 20th century land use. Most of the lakes began as rock quarries or as "borrow pits" that supplied material for the construction of the Illinois highway system. When these pits were no longer needed, they were converted into bodies of water and stocked with fish for recreation.
One of the goals of the Forest Preserves Fisheries Section is to transition these man-made lakes into healthy ecosystems that are able to sustain generations of aquatic life. That's where an Eagle Scout project and PVC pipe come in.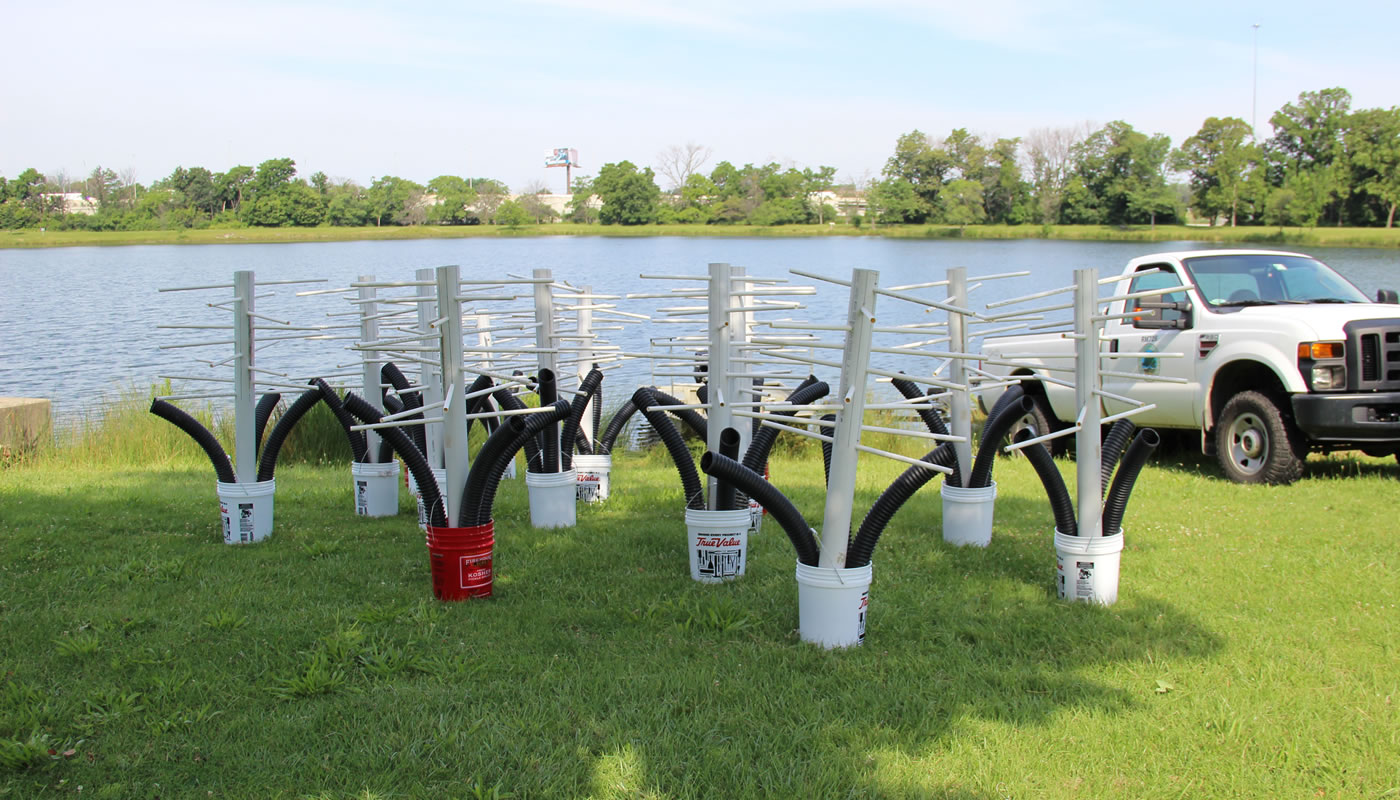 Ninth grade Eagle Scout candidate Jason Mueller, members of his Boy Scout troop and Fisheries staff spent a recent July morning at Axehead Lake sinking 16 elaborate structures—constructed from five gallon buckets filled with concrete and adorned with protruding PVC pipes and tubing. A variation on a design used by Fisheries since the early 2000s, Mueller's structures are meant to mimic underwater aquatic vegetation. At the bottom of the lake, plants and algae begin growing on the structure and, after some time, what was once exposed plastic tubing and PVC pipe will soon be covered in green, masquerading as a strange, angular underwater shrub.
For over 30 years, Fisheries Biologists have been designing and implementing creative strategies to introduce fish concentrators, or artificial fish habitats, into forest preserve lakes. Artificial fish habitats are sustainable and, once sunk, will remain in the lakes forever. They are made from non-toxic materials that will not decompose or require maintenance. Their most important function is to break up the vastness of the man-made "fishbowl" to create surface area, space and shelter for aquatic species.
This habitat is crucial to biodiversity because it increases the carrying capacity of the water body, allowing a greater number and variety of animals to occupy the same space at the same time. Many fish in the lakes rely on artificial habitat to reproduce. Some also rely on these areas for food—small fish and insects eat the plants and algae that grow on the structures and larger fish frequent the areas to hunt the smaller fish.
Even terrestrial animals like birds and fishermen can get in on the action. "Aside from increasing the carrying capacity and making a better ecosystem, fish concentrators provide better angling opportunities for fishermen," said Steve Silic, head fisheries biologist, referring to how artificial fish habitats create "hot-spots" of aquatic activity.
Mueller's 16 buckets join over 200 structures placed in 12 lakes across Cook County by Fisheries staff, with help from private contractors, local clubs, high school bass teams and other aspiring Eagle Scouts. That may sound like a lot, but this restoration is an ongoing process. "Just as there is always restoration work to be done on the land in the preserves, you can always add habitat to the lakes," said Silic. Because these artificial habitats are low cost, highly effective and sustainable, creating these strange places for fish to breed and feed may continue for another 30 years.
Want to help your local preserve fish? You can contact the Forest Preserves Fisheries Section at 708-403-6951 to discuss ways to get involved. Please do not attempt to construct or place any artificial habitat without consulting the Fisheries Section.