From walking and cycling to viewing beautifully restored habitats, Harms Woods has it all. This popular forest preserve is bisected by the North Branch of the Chicago River. To the east of the river, visitors can take advantage of the North Branch Trail; to the west of the river, visitors can walk along unpaved trails and enjoy spring wildflowers, butterflies and birds thriving thanks to years of dedicated restoration efforts.
On this page:
---
Locations & Things to Do
Harms Woods includes multiple locations:
---
---
---
---
---
---
---
---
Trails
---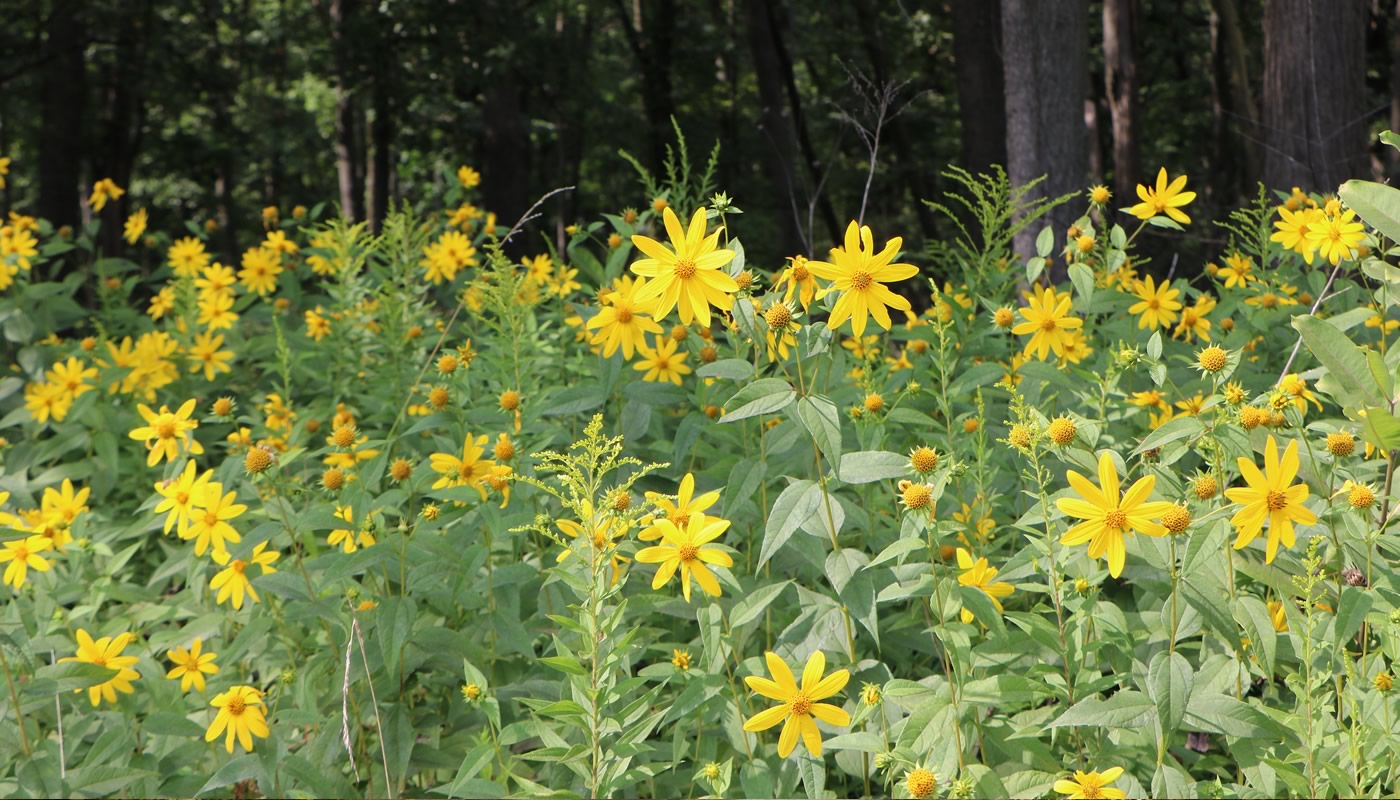 Nature Notes
Visitors to Harms Woods, particularly west of the river, will be treated to an incredibly varied spring woodland wildflower display, including wild geranium, trout lilies, blue cohosh and white trillium. Because habitat restoration efforts have removed much of the invasive brush at Harms, abundant wildflowers feed butterflies and birds from spring through fall. Chorus frogs call from small ponds. Visitors have seen great crested flycatchers, chestnut-sided warblers, and Cooper's hawks. Wait by the river a while and you may spot a mink as it splashes in the water.
East of Harms Road, Harms Flatwoods is a unique, often very wet woodland. Because it can be somewhat more buggy than many preserves, it tends to attract more dedicated naturalists than casual hikers. From the northwest corner (at Harms and Old Orchard), visitors can walk a gravel loop trail to see uncommon ferns and other flatwoods specialties. This area has also benefitted from significant habitat restoration.
Learn more about nature at Harms Woods:
---
Volunteer Opportunities
Harms Woods
Join North Branch Restoration Project volunteers as they remove invasive European buckthorn, brush and weeds from this fine oak woodland situated along the North Branch of the Chicago River. Harms Woods is notable for its rich native flora. The plant list includes over 350 native species, over 40 percent of which are conservative species found almost exclusively in healthy, intact ecosystems.

---
Harms Flatwoods
Harms Flatwoods is dominated by huge bur and swamp white oaks, with an understory of black ash, winterberry, hazelnut and other native trees and shrubs. Flatwoods communities are very wet in the spring and fall rainy seasons because a clay pan underlying the top layers of soil tends to hold water. Join North Branch Restoration Project volunteers in removing invasive species, allowing the rich understory of this unique ecosystem to thrive.