The Forest Preserves boasts a large network of volunteers doing incredible work all across the County like restoring habitat, monitoring plant and animal populations, patrolling our trails, supporting special events and so much more. Though many volunteers fly solo, like Trail Watch volunteers, or work in small groups, like stewardship volunteers, each individual belongs to this larger, like-minded community of people who love nature and care for the Preserves.
---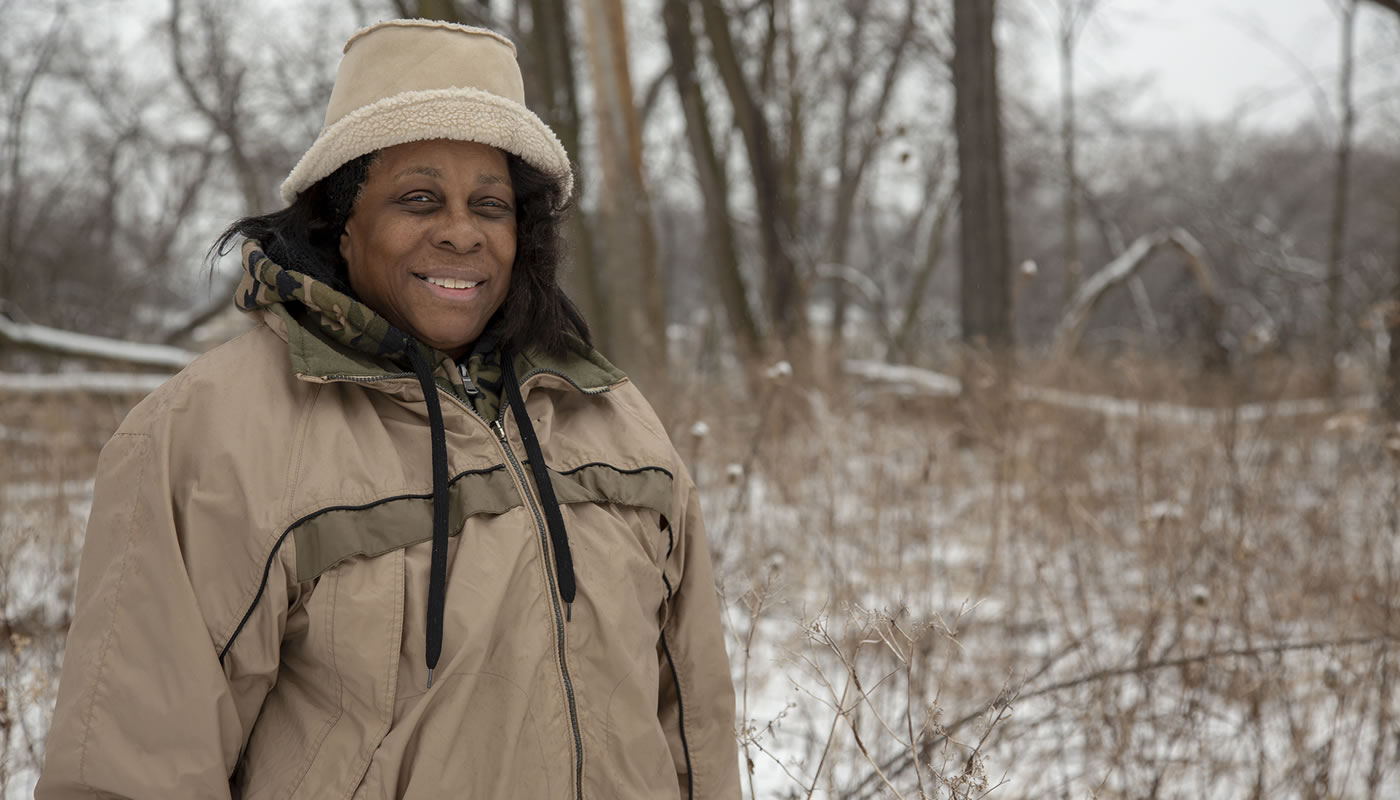 Luandra "Miss Lu" Howard
"I had relocated up here from Georgia four years ago for my grandson who's going to be five soon, and when I arrived I thought, 'Well, I've got to get involved with something'. I knew I liked nature so I just looked up the Forest Preserves and called Chris Weber who was one of the Field Organizers with Friends of the Forest Preserves at the time, and he invited me to come out to Kickapoo Woods. I marched on in and have been volunteering ever since. What I like most is meeting the people that come out here. We get a lot of young kids that come to volunteer and canoe. I like canoeing on the Calumet River even though I am not a swimmer.
"I just like the camaraderie and being around people who like nature. I guess what I find most inspiring is when you run across things you haven't seen before like this one time we went seed collecting and we found a plant—well, an insect—that grows between the stem and a leaf and covers itself up with slime. We also saw a Praying Mantis that day and it was just so interesting to see. If you have somebody who can point things out and teach you, there's always a learning opportunity. I do work part time and one of my colleagues said, 'I'm going to do my walk at the South Holland Community Center where they have an indoor walking track' and I said, 'Oh yeah, I remember doing that and it was quite boring'. She wanted me to come with but I like being out in nature so I can see things and not just walk in a circle. Hopefully I can persuade her to come out here sometime."
---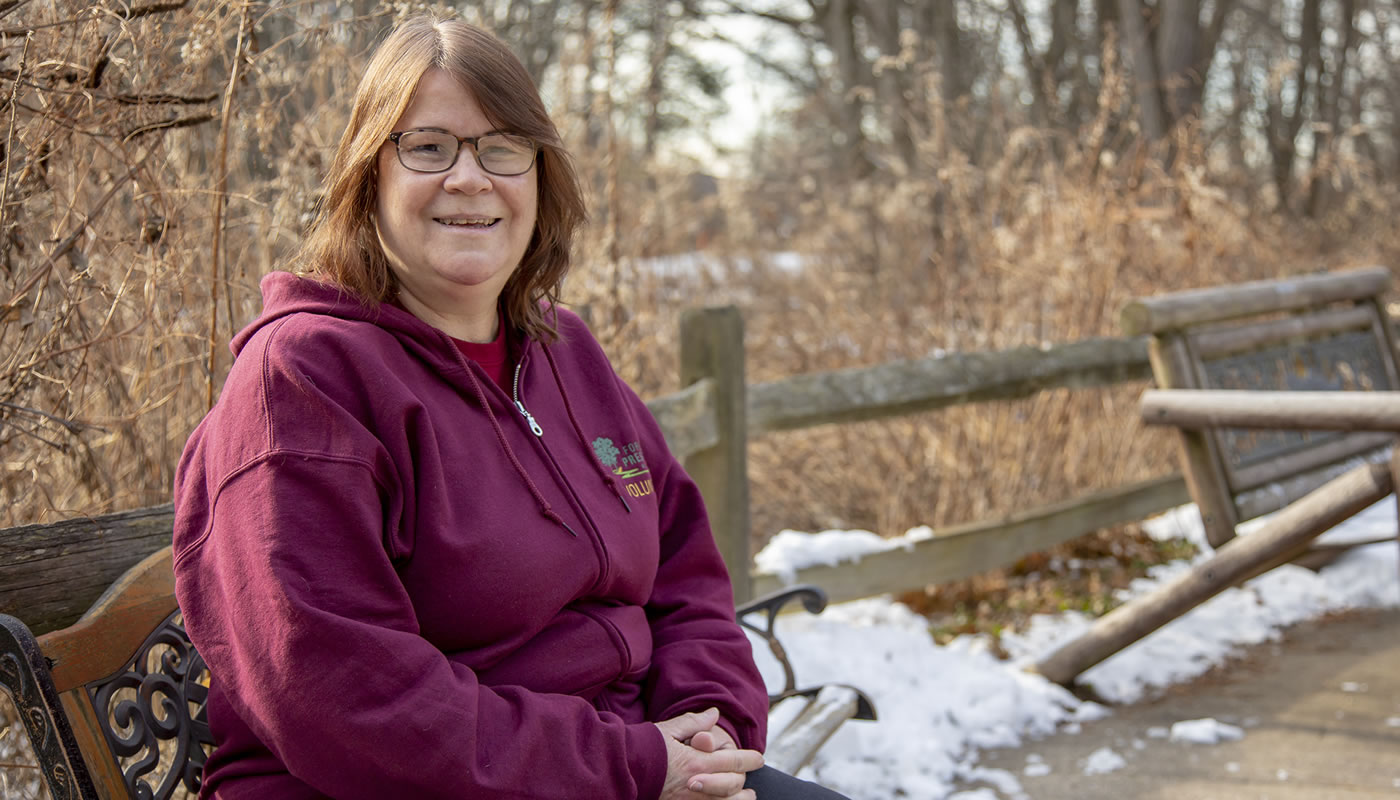 Laura Javorka
"I'm in the middle of a career change, working on a Masters of Environmental Education. In one of my classes, we had to reach out to some people in the community, so I reached out to Sand Ridge Nature Center and talked to Alex Palmer, one of the Naturalists. I told him that I really wanted to learn the ropes of being a Naturalist and so we developed an internship for me. I spend at least 16 hours a week at Sand Ridge and basically do what everybody else does, like restoration work on Tuesdays. I also help with animal care, special events, and plan and co-lead programs. Maybe over time I will actually be leading them.
"When I started my career change, I was in some temporary positions with the zoos, both Brookfield and Lincoln Park. What made me decide that I really wanted to do this kind of work was when I was out with a group form the Mighty Acorns program in the winter. We walked past a pond and the kids were asking questions like, 'Do penguins live there?' 'Do alligators live there?' That's what really sparked the realization that I needed to connect people with their local nature. A lot of people don't know what's in their own backyard.
"The group that came out today was a group of third graders part of Mighty Acorns. Their school is a Chicago Public School so this was actually their fall field trip which was postponed due to the teachers' strike. The kids did an activity in the classroom where they learned about the beaks of different birds and how they are used. They did some restoration work and they also went on an exploration hike—part of which was in the exhibit room because of the cold—but they also looked for animal tracks outside.

"I've learned that this is exactly where I want to be. I call Sand Ridge Nature Center my happy place. I am just so relaxed, so content, and incredibly happy when I'm here. So, I know this is the right thing for me to do. I've learned so much through some of my classes, like identifying different types of trees and wildflowers which has given me something I can share with others. I hope that eventually this will be my full time job. When I told one of my nieces that I was changing careers she thought it was crazy. She said I should be thinking about retirement. But if I get to be doing work like this, doing something I absolutely love, I want to work until I absolutely can't anymore."
---
Inspired by the photo blog Humans of New York, Kris DaPra and Joanna Huyck of the Volunteer Resources team will be working together to introduce you to your fellow volunteers all throughout 2019. You'll get to know the names and faces of the people (like you) without whom the preserves could simply not exist. We hope that you'll enjoy this ongoing project, and we look forward to interviewing YOU at an upcoming workday, on your monitoring route, during your Trail Watch patrol or anywhere else you make a difference. Thank you for being a volunteer!