The Forest Preserves boasts a large network of volunteers doing incredible work all across the County like restoring habitat, monitoring plant and animal populations, patrolling our trails, supporting special events and so much more. Though many volunteers fly solo, like Trail Watch volunteers, or work in small groups, like stewardship volunteers, each individual belongs to this larger, like-minded community of people who love nature and care for the Preserves.
---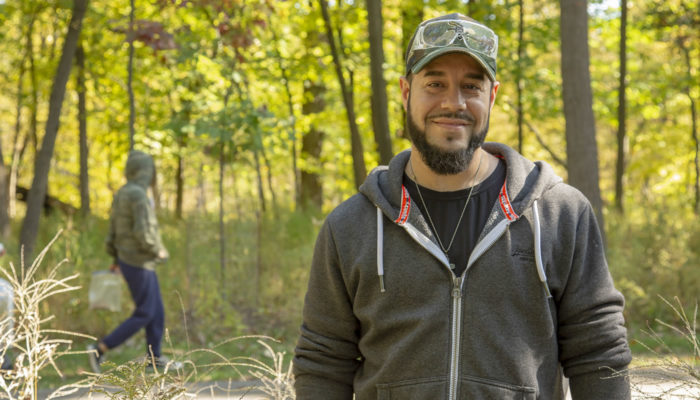 Esteban Montalvo
"My daughter Lily goes to Whitney Young and she has a service hour requirement for her Biology class so I had to come volunteer [at Forest Glen Woods] with her. I've done different volunteer work with her and my other kids over the years. I'd love to say I get out more on my own. Every time I do get out though, it is a rewarding experience. Being slightly facetious this morning, I said to my daughter, 'You know today is going to be an epic day, right?' And she's like, 'Dad, you're kidding me'. But I'm looking at her, watching her talk to some of her friends and she's having a good time.
"I do spend a lot of time with the kids. Lily plays basketball and I run her to and from the city and sometimes it's two or three hours out of my day, but growing up, both of my parents worked very hard, six, seven days a week. I played sports and often times my parents weren't there. I wasn't mad at them for it, because I understand they were trying to give me a better life, but it was sort of tough for me to get patted on the back by another parent, while I'm looking around for my own parent. It would sting a little.
"Being a sports fanatic, I always believed that sports—the discipline, the teamwork, getting up at six o'clock in the morning to go to practice—it's all relevant to life. You don't even have to be amazing at sports, but if you understand those principals, you can be a good citizen. You're going to have a good life. You're going to understand others and you're going to get along well with people.
"I probably could have made other advancements in my career, but having the time with my three kids is important. I want to be there for them, to have that social interaction with them, and see them do things like this. Even if they're making mistakes or goofing off or whatever, but they're getting out of the house and just living. They're not behind a screen. Of course we're not getting paid for this, and Lily does have to get her hours, but there is a value that's kind of added to your self-worth as far as what you can offer. It's rewarding. It's just rewarding."
---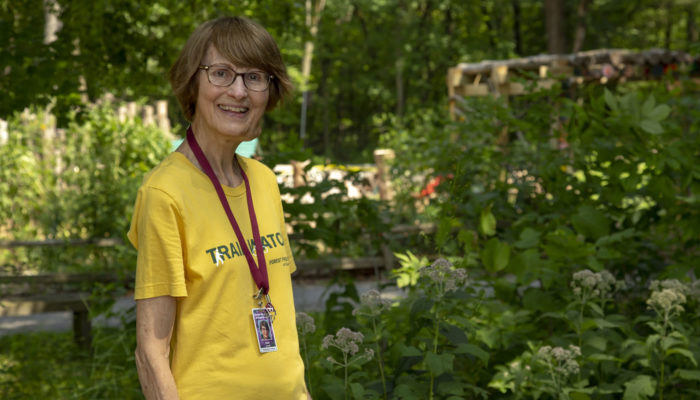 Sandi Justad
"I have loved the forest preserves for a long, long time. I had a horse for a while that I rode in the Palos Park forest preserves and I got to know those inside and out. Since then, the little trails between places are either not there, or what was once a prairie is now a young forest.
"About four or five years ago, I was walking at the Little Red Schoolhouse and Karen Garrett, a naturalist there, had a [volunteer] workday with a group. She took time out from that and stopped me on the trail to invite me to come another day, one Saturday each month. So, that was my introduction to volunteer work. I didn't know there were such opportunities until then. So, the next time I came, I did that with various groups for a few seasons and then I learned about Trail Watch and thought that would be less physical. In Trail Watch you can do what you normally do, on days that you would normally do it and just make a report at the end of it, and I thought, 'Well, I can certainly do that'.
"I love it because it got me out on other trails in the area that I wasn't familiar with. I've grown to love and appreciate the individuality of them. Also, it's fun meeting people who will sometimes stop with questions. Somebody once asked me about a deer exclosure at Little Red Schoolhouse which Karen had explained to me. The people were properly impressed with my tiny bit of knowledge. Another time, a younger couple was lost in Country Lane Woods and they couldn't find their car so I pointed them in the right direction. Sometimes you meet interesting people who will stop to just chat, and one time I met a young man from the Joliet area who came to hike in Pioneer Woods. Now, Will County has some nice preserves too, but here he was. It turns out that his grandfather, a Mr. Gauger, was the post master in Joliet after whom Gauger Road was named. I also met a fellow Trail Watch volunteer who went to high school with my sister at Carl Sandberg and we know a lot of the same people.
"Trail Watch can fit so easily into whatever schedule people have. And maybe it's an incentive to walk in the forest preserves once a week, or a couple times a month just to enjoy what's here. But I think maybe the best reason to volunteer is, that if you let it, it restores your soul. And if somebody thinks they don't have time for it, well, that's probably just what they need."
---
Inspired by the photo blog Humans of New York, Kris DaPra and Joanna Huyck of the Volunteer Resources team will be working together to introduce you to your fellow volunteers all throughout 2019. You'll get to know the names and faces of the people (like you) without whom the preserves could simply not exist. We hope that you'll enjoy this ongoing project, and we look forward to interviewing YOU at an upcoming workday, on your monitoring route, during your Trail Watch patrol or anywhere else you make a difference. Thank you for being a volunteer!