The Forest Preserves boasts a large network of volunteers doing incredible work all across the County like restoring habitat, monitoring plant and animal populations, patrolling our trails, supporting special events and so much more. Though many volunteers fly solo, like Trail Watch volunteers, or work in small groups, like stewardship volunteers, each individual belongs to this larger, like-minded community of people who love nature and care for the Preserves.
---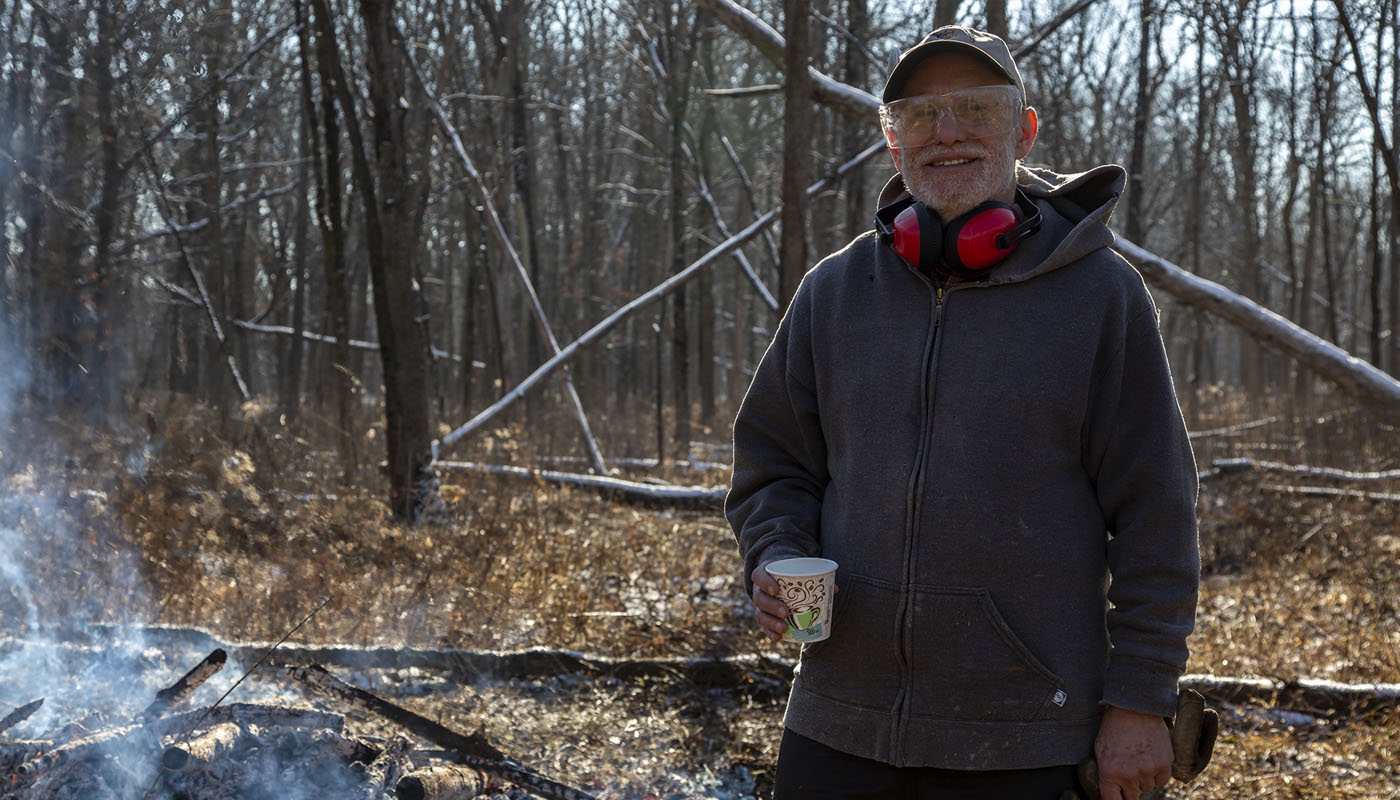 Ross Sweeny
"It's wonderful to be out on a beautiful day, working hard in the outdoors with a great group of people, good food at the break, and plenty of hard work to do. I do feel a little uncomfortable about the re-sprouts, non-native species and just the overwhelming aspect of actually making progress, but out here, it's always a good day."  
---
Jim Tebo
"My kids are grown and my wife enjoys sleeping in on weekends so for me it's a great opportunity to get out and see nature. I'm so glad I found this group because on a Saturday morning in the winter, instead of sitting at home watching TV or doing something mindless, I'm out here enjoying the woods.
"I'm trying to recruit other people to join me. For example, one of the teachers I work with lives up in Des Plaines and she loves being outdoors. I've told her about the volunteer work that I'm doing and showed her pictures. She definitely wants to get involved, so I'm hoping she went out today and found a group to work with.
"It's great cardio. It's great stress relief. You're going to meet some wonderful people from all walks of life, people who are retired, and those still working. Layer up, get some good boots, and come out here with a good attitude."
---
Inspired by the photo blog Humans of New York, Kris DaPra and Joanna Huyck of the Volunteer Resources team will be working together to introduce you to your fellow volunteers. You'll get to know the names and faces of the people (like you) without whom the preserves could simply not exist. We hope that you'll enjoy this ongoing project, and we look forward to interviewing YOU at an upcoming workday, on your monitoring route, during your Trail Watch patrol or anywhere else you make a difference. Thank you for being a volunteer!