The Forest Preserves boasts a large network of volunteers doing incredible work all across the County like restoring habitat, monitoring plant and animal populations, patrolling our trails, supporting special events and so much more. Though many volunteers fly solo, like Trail Watch volunteers, or work in small groups, like stewardship volunteers, each individual belongs to this larger, like-minded community of people who love nature and care for the Preserves.
---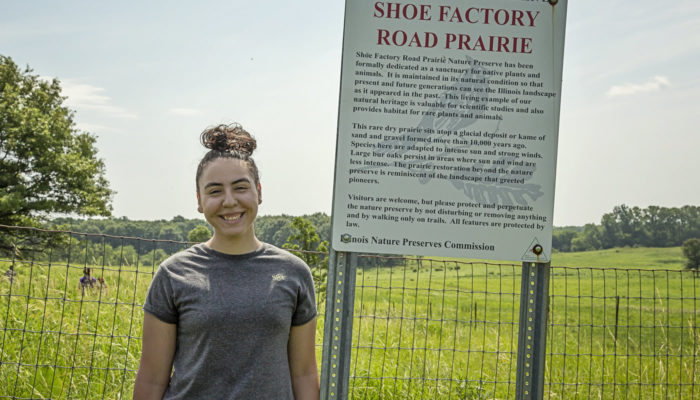 Leslie Gaeta
"Since the first day volunteering for the Forest Preserves, I fell in love with it. I love it so much. Everybody [volunteering at Poplar Creek] has their own specialty and wants to help the environment. I like seeing the progress we make and seeing the before and after. In the fall I'll be going to Aurora University and I plan to major in Environmental Studies. I hope to become a restoration ecologist. I always liked being outside, even as a little kid and recently I've started going outside just to sit out there. Just doing nothing. Not even being on my phone. It's nice to sit in nature and just take in the air, the trees, and the birds. I don't like being on my phone. I realized I had nine hours of screen time each day and I wanted to change that. I didn't know how, but I tried this and it's working."
---
Joe Schlau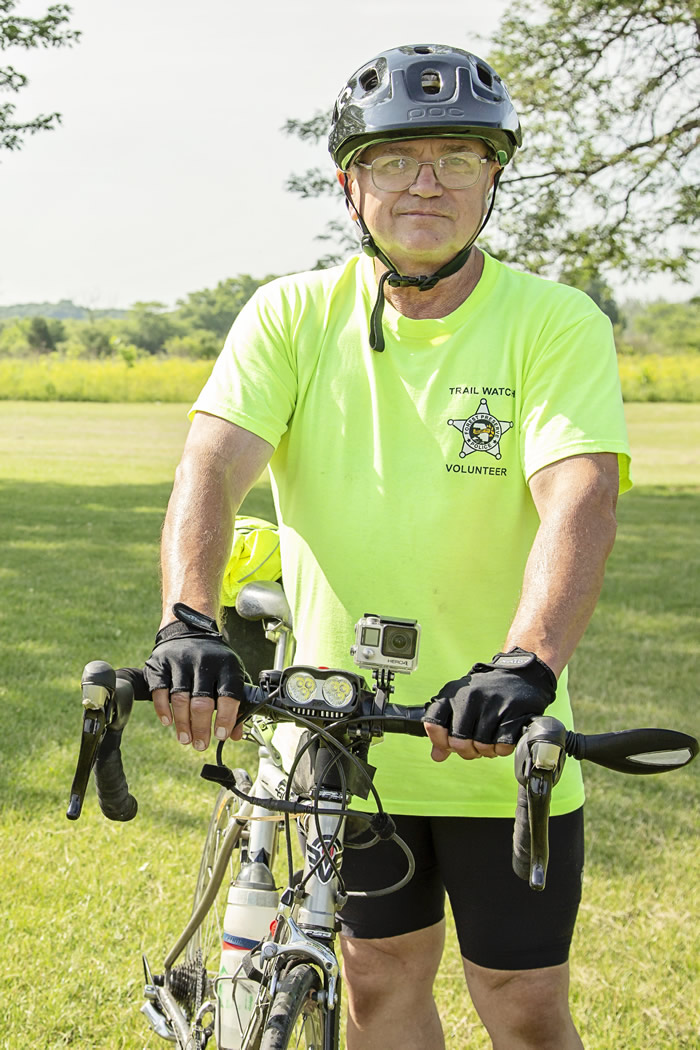 "My big career was in law enforcement. I was on a police force since I was 18 years old. I retired after 30 years of service in 2008. My last three years on the job, I was the coordinator for bike patrol. Even after retiring, I worked some part time positions with other departments.
"I used the forest preserve system to train for the Chicago Marathon. I did one marathon and retired after that, but part of marathon training was doing some sort of aerobic exercise on the sixth training day of the week, and there was my kid's bike. I picked it up, rode it, and said, 'You know what? This is a lot more fun than running' and it's just grown into my favorite sport, hobby, and exercise program. Currently I'm training for a ride across Iowa, RAGBRAI. I'm on my road bike today but I also have a couple of different mountain bikes. One has thinner tires, and one has the really fat ones that I ride in the snow and on the back trails. There's a lot more to the forest preserves than just the paved trails. There's a whole system of trails south of Golf Road that used to be old farm roads. It's kind of nice on the mountain bike, after hearing all the traffic, to just turn off and head on in there. The traffic noise goes away and you're really out in the back country.
"I saw the notice for Trail Watch at the end of 2008, signed up for it, and the program really got up and running in 2009. Since I was already riding or running the trails, it was a chance to get involved while doing my regular exercise routine. Sometimes I see people who need help. They have bike problems, flat tires, stuff like that. People need directions. Probably the most common report I make is trees that are down when I come through here after a big storm. You'll find a lot of trees that are knocked down. Some of them are small enough where I can just move them myself, but other ones you need a crew to come out and do that. Some areas on the trails have potholes that I'll report. But probably the funniest thing was when I was pulled over one time on my bike and a couple of joggers came by. One of them apparently didn't bring enough water, and he comes up and says, 'Mind if I grab that bottle?' as he picks it up off my bike and takes a drink. I said, 'Well, have at it'."
---
Inspired by the photo blog Humans of New York, Kris DaPra and Joanna Huyck of the Volunteer Resources team will be working together to introduce you to your fellow volunteers all throughout 2019. You'll get to know the names and faces of the people (like you) without whom the preserves could simply not exist. We hope that you'll enjoy this ongoing project, and we look forward to interviewing YOU at an upcoming workday, on your monitoring route, during your Trail Watch patrol or anywhere else you make a difference. Thank you for being a volunteer!