The Forest Preserves boasts a large network of volunteers doing incredible work all across the County like restoring habitat, monitoring plant and animal populations, patrolling our trails, supporting special events and so much more. Though many volunteers fly solo, like Trail Watch volunteers, or work in small groups, like stewardship volunteers, each individual belongs to this larger, like-minded community of people who love nature and care for the Preserves.
---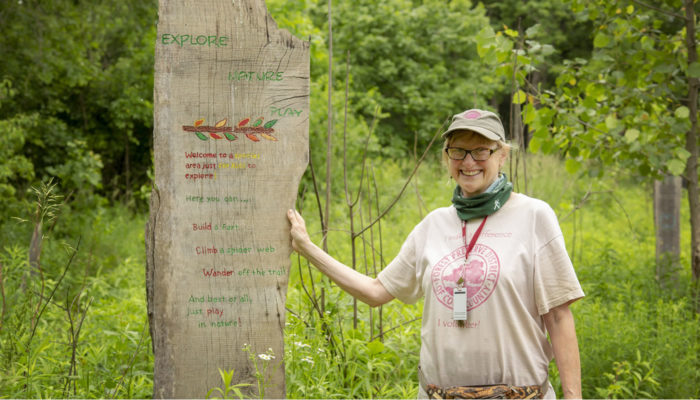 Babs Eddington
"I used to bring my kids to Crabtree Nature Center to walk on the trails because it's just such a warm and welcoming place. In 1998 I donated a bench here in memory of my daughter, and the people here were really nice. I saw a little flier that said they needed volunteers so when I retired from nursing, I called them and they invited me for an interview. They asked me what I liked to do so that they could match me up to a role, and they took me as a volunteer. They really try to match you up with the things you enjoy doing, and you can just step right into it. I help with the preparation for kids projects, cutting paper, folding, and I also paint signs outside. I like the people here. They're just really sweet and kind. I love the trees and the nature out here, and Darryl the turkey vulture, my bud. Darryl really has a personality. He tried to attack me one time in the classroom and I had to go behind chairs, but he knows me now since I come every week, just for an hour or two. It's my routine. It's easy and I think people would really enjoy it. I recommend it."
---
Charlie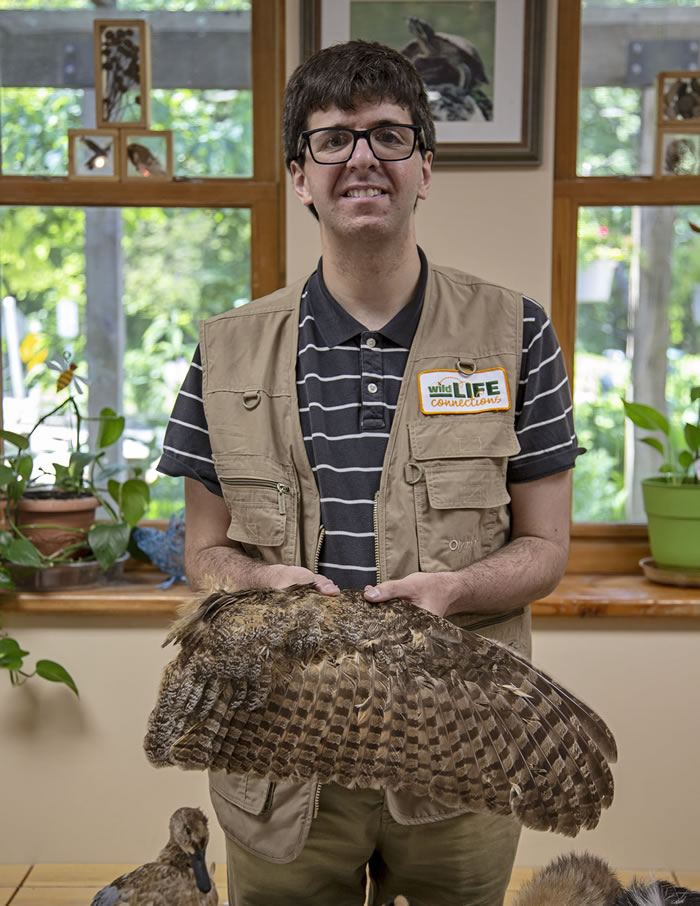 "I got accepted to live at Misericordia Heart of Mercy on October 30th of this past year and I actually moved into a CILA, and that stands for Community Integrated Living Arrangement, a home for residents where I live with five other guys. I actually heard about River Trail [Nature Center] from Nora who is one of the staff from the Holbrook Work Center and she is a part of Engage Chicago. I really, really enjoy volunteering here and teaching kids about wildlife animal species. I have been volunteering since April but our volunteer training was in March. My favorite topic to talk to kids about is birds. I just love the way birds feel. I really like the duck that we get to demonstrate to the kids, and how to pet it correctly. Kids ask questions like 'How many different birds are there?'. I really enjoy coming here and seeing the staff. I enjoy that it's in a lovely nature setting and I really like communicating with everybody."
---
Inspired by the photo blog Humans of New York, Kris DaPra and Joanna Huyck of the Volunteer Resources team will be working together to introduce you to your fellow volunteers all throughout 2019. You'll get to know the names and faces of the people (like you) without whom the preserves could simply not exist. We hope that you'll enjoy this ongoing project, and we look forward to interviewing YOU at an upcoming workday, on your monitoring route, during your Trail Watch patrol or anywhere else you make a difference. Thank you for being a volunteer!