Oak Forest Heritage Preserve provides opportunities to learn about this preserve's diverse cultural and historical significance while traversing a nearly 2-mile paved loop trail. Located next to Oak Forest Health Center, the site offers healthy and restful activities such as walking, birding and wildlife watching.
On this page:
---
Locations & Things to Do
---
---
Oak Forest Heritage Preserve Trails
---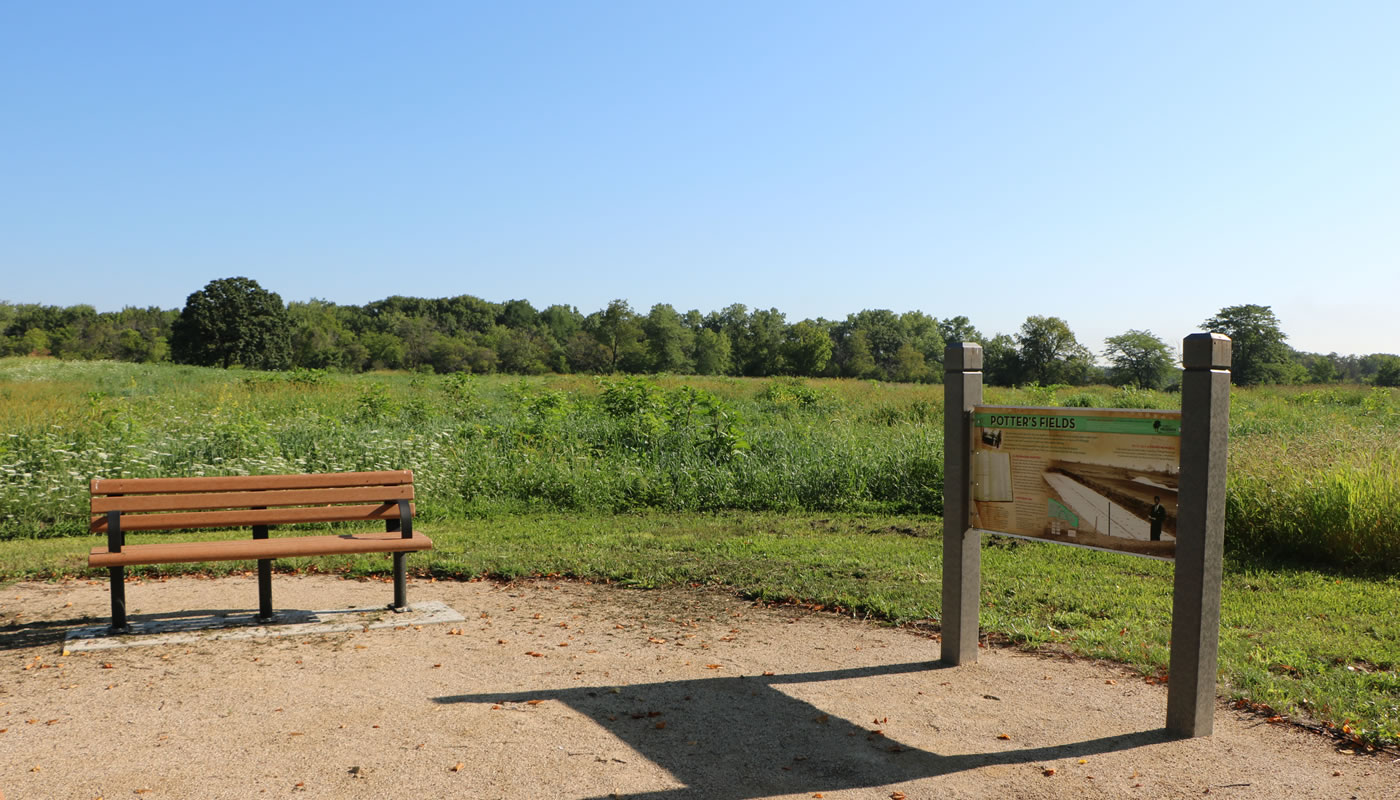 History
The Forest Preserves acquired the 176-acre Oak Forest Heritage Preserve site in 2010 for its important ecological, cultural and historical value.
Since the last retreat of the Wisconsin Glacier, approximately 14,000 years ago, the land area that includes Oak Forest Heritage Preserve has been a place of significance. This is due largely to its location at the transition between a morainal ridge left behind by the retreating glacier and the flat, open land of the Chicago Lake Plain, approximately 25-30 feet below.
The elevation of the moraine above the plains offered Native American inhabitants refuge from the heat and humidity of low-lying swamps, views of sweeping prairie fires and potential enemies, and ready access to nearby woodlands for harvesting materials for housing and sustenance. In this position, the recessional edge also provided the best trail location for travel and trading. The value of this location to Native American culture was confirmed in 1958, when an archaeological investigation uncovered eight houses and mapped an entire Native American village—the first to be identified in northeastern Illinois. The site appears to have been occupied around approximately 1680.
In 1910, what was to later become Oak Forest Hospital and today's Oak Forest Health Center, opened its doors as the Cook County Work Farm/Oak Forest Infirmary, a poor farm and home for the county's indigent population.
In addition to the poor farm, the Oak Forest Infirmary property also served as a tuberculosis treatment center and burial site for the county's indigent and many of those who died at Oak Forest Hospital. Written records of these burials have been preserved by Cook County, beginning March 4, 1911, and continuing through November 17, 1971.
---
Fishing at Pogie Lake
Pogie Lake is a 14-acre waterbody.
---
Distance to accessible parking: 110 ft
Currently no accessible bathroom