The unpaved Des Plaines River Trail follows its namesake river through more than a dozen forest preserves, allowing visitors to enjoy casual strolls, full-day adventures and anything in between.
On this page:
---
Overview & Maps
---
---
Trail Access
Access the Des Plaines River Trail System at any of these forest preserve locations (ordered from South to North). Check out the trail maps listed above to find on-street or bikeway access points.
---
---
---
---
---
---
---
---
---
---
---
---
---
---
---
---
---
---
---
---
---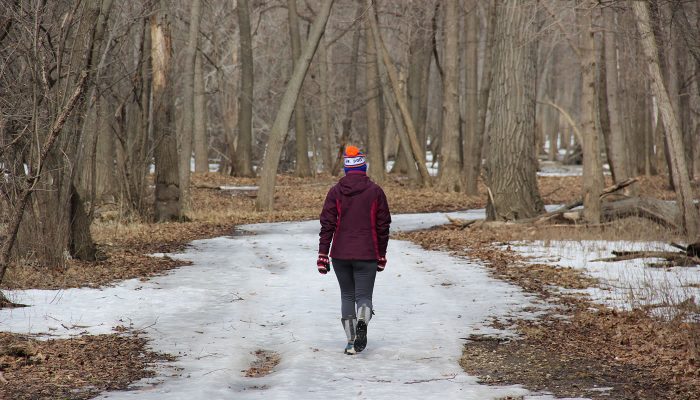 Recommended Hikes
Introductory
Out-and-back between Beck Lake and River Trail Nature Center
Length: 5.2 miles

Surface: Unpaved

Terrain: Flat
Starting at Beck Lake, take the Green Unpaved Spur to the Unpaved Yellow Trail and turn north. As you approach the River Trail Nature Center grounds, you'll notice signs pointing you to the Nature Center building.
During River Trail's regular hours, you can view wildlife, learn about the area's natural history or take a self-guided tour through the beautiful sugar maple woods. To complete the hike, head back to the Unpaved Yellow Trail and head south toward Beck Lake.
---
---
---
Intermediate
Out-and-back between Big Bend Lake and Dam No. 4 Woods-East
Length: 11 miles

Surface: Unpaved (with a short Paved segment)

Terrain: Mostly Flat
Starting at Big Bend Lake, head south on the Yellow Unpaved Trail for about a mile, where you'll come across a short paved section through the City of Des Plaines. Reenter the preserves at Camp Ground Road Woods and continue your journey south. The rest of the trail to Dam No. 4 Woods-East is unpaved and passes through a variety of natural communities including oak woodland and floodplain forest.
Look for wildflowers and migrating warblers in the spring. In the fall, you may see tree squirrels, fox squirrels and chipmunks busily gathering the nuts and acorns.

Further along, the floodplain forest around Axehead Lake is rich with corky-barked hackberry. You may well see signs of busy beavers felling trees, keeping the forest open.
Once you reach Dam No. 4 Woods-East, turn around and take the Yellow Unpaved Trail back the way you came.
---
---