The focus of major ecological restoration efforts in the late 2010s, the 470-acre Spears Woods features oak woodland and savanna, prairie, sedge meadow, freshwater marsh and stream habitats. This mosaic of quality habitats and easy access to the Palos Trail System make Spears Woods a beautiful year-round destination for a quick nature walk or the ideal starting place for an extended hike.
On this page:
---
Location & Things to Do
Spears Woods
Entrance
96th Ave, south of W 87th St
Cook County, IL 60480
(near Willow Springs)
Things to Do & Amenities
Portable bathroom open May 1 to October 31 depending on weather conditions.
Hours
Year-round:
Sunrise to Sunset
Closures & Alerts
---
Trails
The extensive and varied Palos Trail System winds through rolling hills and deep ravines, providing beautiful views of the surrounding landscapes.
Location: Hickory Hills, Justice, Palos Hills & Willow Springs
Surface
Unpaved
Estimated Total Length
42.1 miles
Hours
Year-round:
Sunrise to Sunset
Closures & Alerts
---
Nature Notes
The 470-acre Spears Woods sits at the junction of the Valparaiso and Tinley Moraines—two ridges of rock and sediment deposited by the glaciers that shaped the Palos Preserves. Spears Woods features dry-mesic oak woodland and savanna, dry-mesic and mesic prairie, sedge meadow, freshwater marsh and stream habitats. The mosaic of quality habitats at Spears Woods supports a variety of wildlife, including red-headed woodpecker, scarlet tanager, American woodcock, muskrat and western chorus frog.
In the mid-20th century, the Forest Preserves deepened several wetlands "for scenic and wildlife values" by installing check dams at their outlets; these include: Boomerang Slough, Firefly Slough, Hogwash Slough and Pollywog Slough. While creating these permanent waterbodies benefited some fish species, native salamanders lost essential breeding habitat. Even if the dams were removed, these wetlands would be costly and difficult to restore to their former quality. The marsh at the far southeast corner of Spears Woods is a small portion of Buttonbush Slough, an ancient glacial lake now divided by 95th Street.
Volunteers began efforts to restore native ecosystems at Spears Woods in the early 1990s and in the late 2010s the Forest Preserves completed a major restoration project that removed nearly all invasive shrubs from the preserve. The dedicated volunteer group and regular prescribed burns continue to help keep these restored habitats healthy for native plants and animals.
---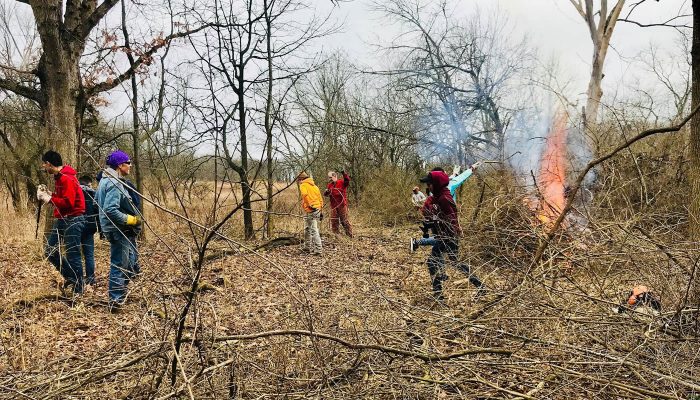 Volunteer Opportunities
Named after the farming whose dairy once occupied the land, Spears Woods includes woods, wetlands, and prairie knolls. Restoration activities focus on the removal of invasive plants like honeysuckle and barberry. Main tools used are loppers and hand saws. Weather permitting, volunteers will build and burn brush piles.