The extensive and varied Palos Trail System winds through rolling hills and deep ravines, providing beautiful views of the surrounding landscapes.
On this page:
---
Overview & Maps
---
Trail Access
Access the Palos Trail System at any of these forest preserve locations (ordered from West to East). Check out the trail maps listed above to find on-street or bikeway access points.
---
---
---
---
---
---
---
---
---
---
---
---
---
---
---
---
---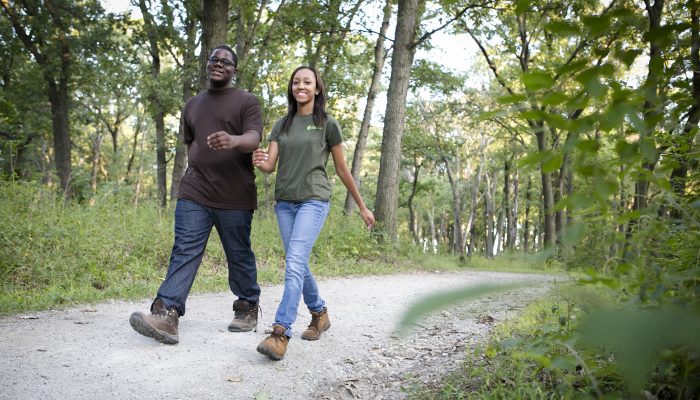 Recommended Hikes
Intermediate
Start and end at Country Lane Woods
Length: 5 miles
Surface: Unpaved
Terrain: Rolling
Get to know the Palos Trails by starting at Country Lane Woods and hiking the rolling terrain around Cranberry Slough Nature Preserve, one of only a few peat bogs in Illinois.
The trail starts with an old gravel country lane that provides a wide path for hiking, biking, cross-country skiing or horseback riding through the heart of the preserve. Head south along the Tan Unpaved Trail to the intersection with the Yellow Unpaved Trail. Continue southeast on the Yellow Unpaved Trail, then around to Cranberry Slough.
This ecological restoration site provides great viewing for wildlife as well as delicate woodland and prairie wildflowers.
Hike another 2.5-miles, then rejoin the northern portion of the Tan Unpaved Trail. Head south back to your starting point.
---
---
Advanced
Start and end at Wolf Road Woods
Length: 5.5 miles
Surface: Unpaved
Terrain: Hilly
For a more strenuous adventure, hike or mountain bike the 5.5-mile Orange Unpaved Loop trail from Wolf Road Woods. This natural trail is twisting, rocky and narrow with varied topography.
Pick up the trail just north of the parking lot at Wolf Road Woods, and continue along past scenic Tomahawk and Horsecollar Sloughs.
Follow the outer trail loop as it winds south along Archer Avenue, then east along 107th Street. This area provides colorful autumn foliage and is home to a great variety and abundance of wildlife.
From there, continue following the trail north, up a challenging incline and finally back to the starting point.
---