The Sag Valley Trail System's miles of looping and connecting unpaved trails take visitors to some of the most remote areas of Cook County.
On this page:
---
Overview & Maps
Sag Valley Trail System
Location: Homer Glen, Lemont & Palos Park
Surface
Unpaved
Estimated Total Length
20.4 miles
Hours
Year-round:
Sunrise to Sunset
Closures & Alerts
---
Trail Access
Access the Sag Valley Trail System at any of these forest preserve locations (ordered from East to West). Check out the trail maps listed above to find on-street or bikeway access points.
---
---
Teason's Woods
S Willow Springs Rd, south of Calumet Sag Rd/Rte 83
(near Palos Park)
---
---
---
---
---
---
---
---
Paddock Woods
S 86th St, south of Calumet Sag Rd/Rte 83
(near Palos Park)
---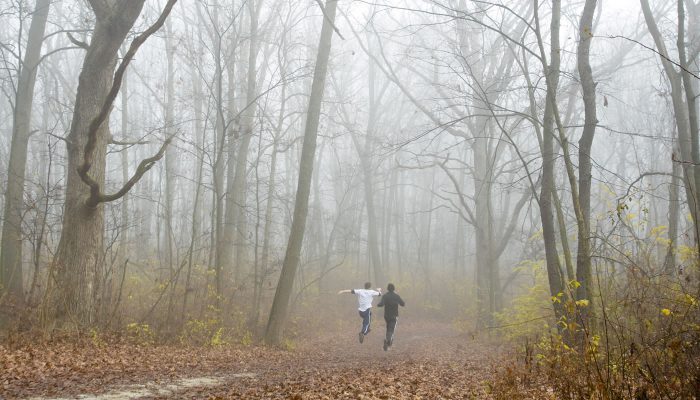 Recommended Hikes
Introductory
Start and end at Sag Valley Equestrian Parking area
Length: 3.4 miles
Surface: Unpaved
Terrain: Rolling
For your first foray into Sag Valley, consider hiking or biking a combination of the Red Unpaved Trail and Brown Unpaved Loop. Access the Red Unpaved Trail from the southeast corner of the lot at Sag Valley Equestrian Parking area. Take the Red Unpaved Trail north for about 0.5 miles, where it connects to the Brown Trail—mile loop. These mostly mowed trails are also available for equestrian use.
The tranquil, wooded Brown Unpaved Loop is great for viewing birds and other wildlife, including beavers, rabbits, coyotes, turtles and frogs—especially near McGinty Slough.
---
---
Intermediate
Start and end at Swallow Cliff Woods-South

Length: 8.1 miles
Surface: Unpaved
Terrain: Hilly
For a picturesque tour through Sag Valley that will also provide vigorous exercise, start at the Swallow Cliff Woods-South parking lot. From there you can access the 8.1-mile Yellow Unpaved Loop, a gravel and stone trail that is available for hiking, cycling, cross-country skiing and equestrian use.
Heading west, this trail will take you through the 1,520-acre Cap Sauers Holding Nature Preserve—the center of this preserve is the most remote place in all of Cook County. It includes stretches of ridges and valleys that wind through peaceful oak woodlands.
Continue along the trail through Teason's Woods, Swallow Cliff Woods-North (home to the famous Swallow Cliff Stairs), Palos Park Woods, Paddock Woods. You will climb a challenging hill between McClaughrey Springs Woods and Forty Acre Woods, before arriving back at Swallow Cliff Woods-South.
---