Equipped with multiple cameras affixed to a pole towering above the rider, the Forest Preserves of Cook County's Data Bike traversed every single mile of paved trail—twice—in both 2020 and 2021. The goal: better direct capital investment and aid long-term planning by using site-specific information.
The Data Bike—an electric bike embellished with a 360-degree camera, a rear-facing camera, and a smartphone loaded with a data collection app—is part of the Preserves' Trail System Inventory and Evaluation program.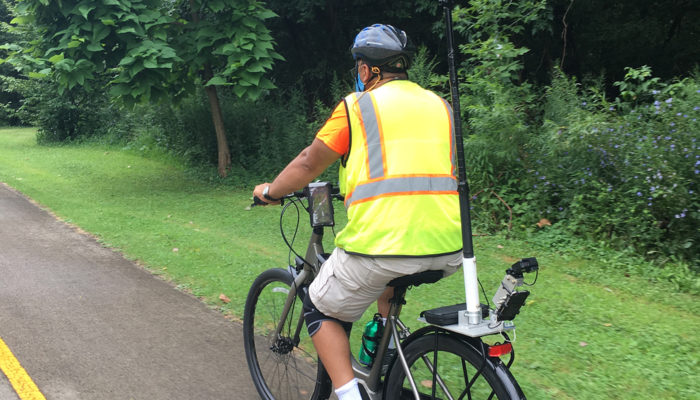 Modeled after the Des Moines Area Metropolitan Planning Organization Data Bike, the equipment was used to inventory the Preserves' paved trails, assess trail conditions and inventory additional assets including culverts, drop-gates, tunnels and benches.
"The Forest Preserves manages more than 155 miles of paved trails spread throughout the county, places that are often remote and hard to reach in traditional vehicles," says Aren Kriks, Forest Preserves civil engineer and project manager. "In order to maintain that trail system, we sometimes have had to rely on public feedback and issues brought to our attention. The Data Bike program was developed as an attempt to deploy a more proactive approach in maintaining the trails while helping us plan and budget for repairs."
With information from the Data Bike, the Forest Preserves team designates trail segments in one of three categories: good, fair or poor. Good trails are considered smooth with minimal to no cracking. Fair trails are showing signs of wear, with increased cracking. A poor trail is one that is showing advanced wear, with large cracks and potholes. The 2020 and 2021 Data Bike assessments found more than 80% of the Forest Preserves' paved trails were in good or fair condition.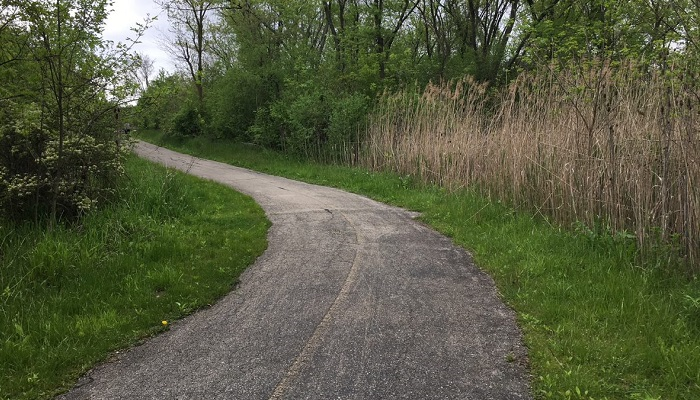 According to Kriks, new trails have a typical service life of about 20 years, but that can be extended with mid-term pavement treatments like crack sealing and pavement patching. With the information collected by the Data Bike, investments in maintenance will be hyper-focused on segments categorized as "poor" and "fair." Beginning in this summer, trail users will see this work begin with resurfacing along the Old Stover Road trail near Crabtree Nature Center, the John Husar I&M Canal Trail, and the Tinley Creek red loop trail segment below 143rd Street.
Future trail assessments are planned to continue on an annual basis, with one third of the system assessed on a three-year cycle. This will enable the Forest Preserves to identify both large-scale capital needs and anticipate a typical failing trail section.
"For the first time we can say that we have a snapshot of our current trail conditions. As we repeat the data collection, the long-term goal is that we will hopefully learn the rate at which the pavement is deteriorating, allowing us to predict when trails might fail and be strategic with long-range budgeting for improvements," says Kriks.
Funding for the Trail System Inventory and Evaluation program was provided in part by the Statewide Planning and Research Program funded through the Federal Highway Administration and administered by the Illinois Department of Transportation.