The Forest Preserves boasts a large network of volunteers doing incredible work all across the County like restoring habitat, monitoring plant and animal populations, patrolling our trails, supporting special events and so much more. Though many volunteers fly solo, like Trail Watch volunteers, or work in small groups, like stewardship volunteers, each individual belongs to this larger, like-minded community of people who love nature and care for the Preserves.
---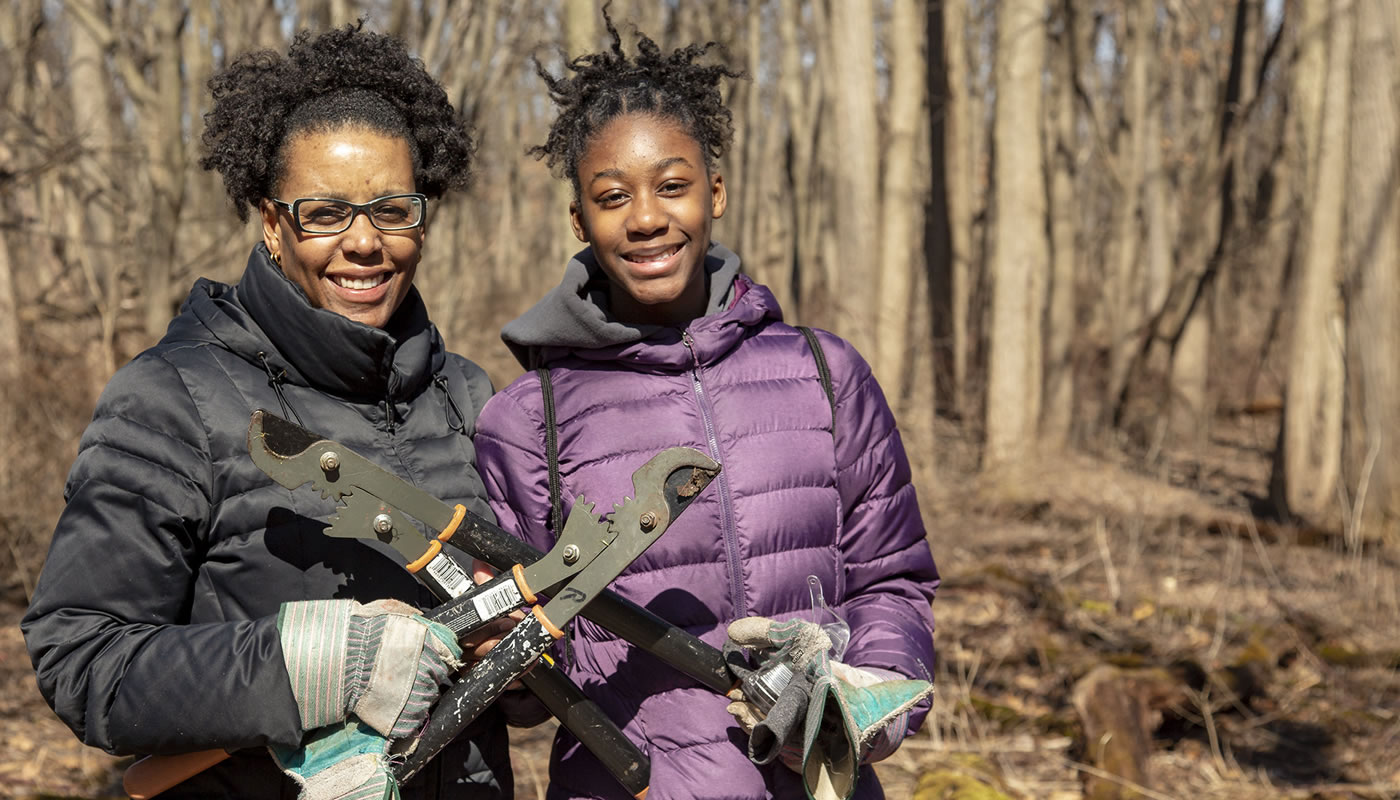 Lorrie & Kaitlyn James
"Our Girl Scout troop is working on our Silver Award which is a way that we can affect our community in a positive way. So, we wanted to give back and do something positive and we thought the Forest Preserves was a beautiful opportunity for us to do that. Today is our first time volunteering here at Bemis Woods.
"Today we've cut down a lot of brush, collected the sticks and brought them over to the fire to burn. In addition to that, we've been stuck several times on some of those little red thorny stems but that's ok.
"This is a wonderful way in which you can impact your community and the preserves. It's such a beautiful place of nature not only for the animals but for people as well, so we want to make sure we help preserve it, and you can also get some great volunteer hours. We would do this again."
---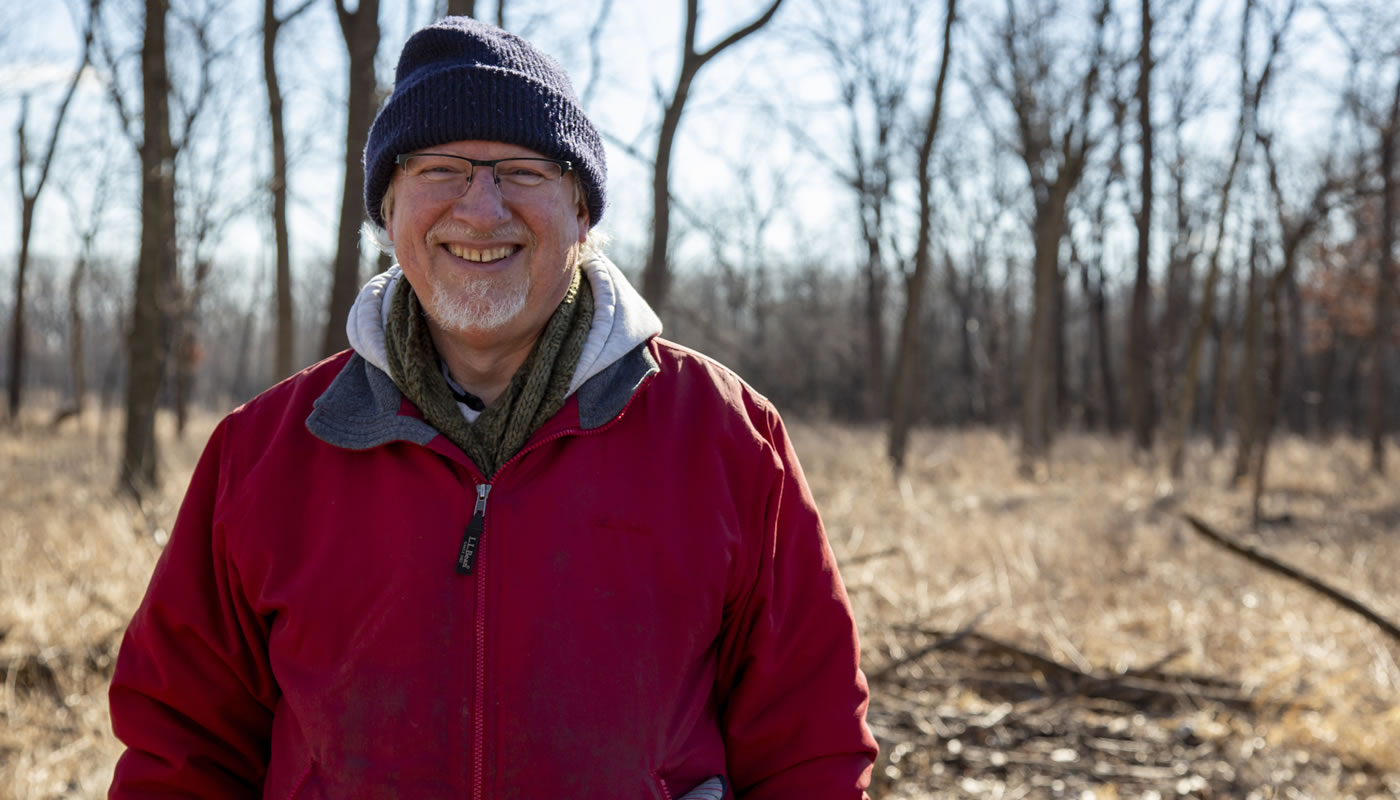 Mark Kludge
"In May 2006 my wife was looking for an activity for a group of home schooled boys who were all brothers. She wanted to find the boys activities to keep them social and occupied and she was looking around at various sites where they could do restoration. I don't know exactly how she happened upon Ted Stone [Forest] workdays, but when she called George and Barbara Birmingham, their response simply was 'Come on out.' George in particular has a way of engaging young people and teaching them how to safely use tools. Of course, young boys and cutting down trees is a match made in heaven.
"A couple years later George and Barbara asked me to become a co-steward and that side, that sort of stewardship engagement side, has occupied more and more of my time. I got very interested in the flora at first. Barbara and I did a plant class that was restricted to the site but of course there was plenty of variety between the prairies, and the woodlands and the wetlands to make an effective class. We did that for, I think, four seasons. One day, just before we set off on the plant class, my daughter and I were just checking to see what was up in the woods—I believe it was early June—and there we spotted for the first time on the site, fire pink, Silene virginica. We had only started burning the woods a couple years before that. Seeing that plant was kind of a validation that restoration activity brings back conservative plants and that was a pretty exciting moment.
"I am now a part of the Illinois Native Plant Society Northeast Chapter that's being reinvigorated. I serve as Vice President on the board of that. I've started my third year on Key Stewards. I try and make it up to North Branch workdays once every couple of months because I have a lot of friends up there. So, I've been engaged more and more in the Cook County Forest Preserves. I think people need to appreciate our natural resources as something of inherent value. Not just maintaining our air quality, or water quality but maintaining our emotional quality, too, because to me there's nothing more uplifting than to walk through a natural area and marvel at all the wonders you see."

---
Inspired by the photo blog Humans of New York, Kris DaPra and Joanna Huyck of the Volunteer Resources team will be working together to introduce you to your fellow volunteers all throughout 2019. You'll get to know the names and faces of the people (like you) without whom the preserves could simply not exist. We hope that you'll enjoy this ongoing project, and we look forward to interviewing YOU at an upcoming workday, on your monitoring route, during your Trail Watch patrol or anywhere else you make a difference. Thank you for being a volunteer!