Little Red Schoolhouse Nature Center has educated and delighted generations of families with live animals, exhibits and self-guided trails.
On this page:
---
COVID-19 Visitor Information
All visitors over 2 years of age must wear a mask indoors at all times. Unvaccinated visitors should also wear a mask outdoors when physical distancing (six feet from other people) is not possible.
---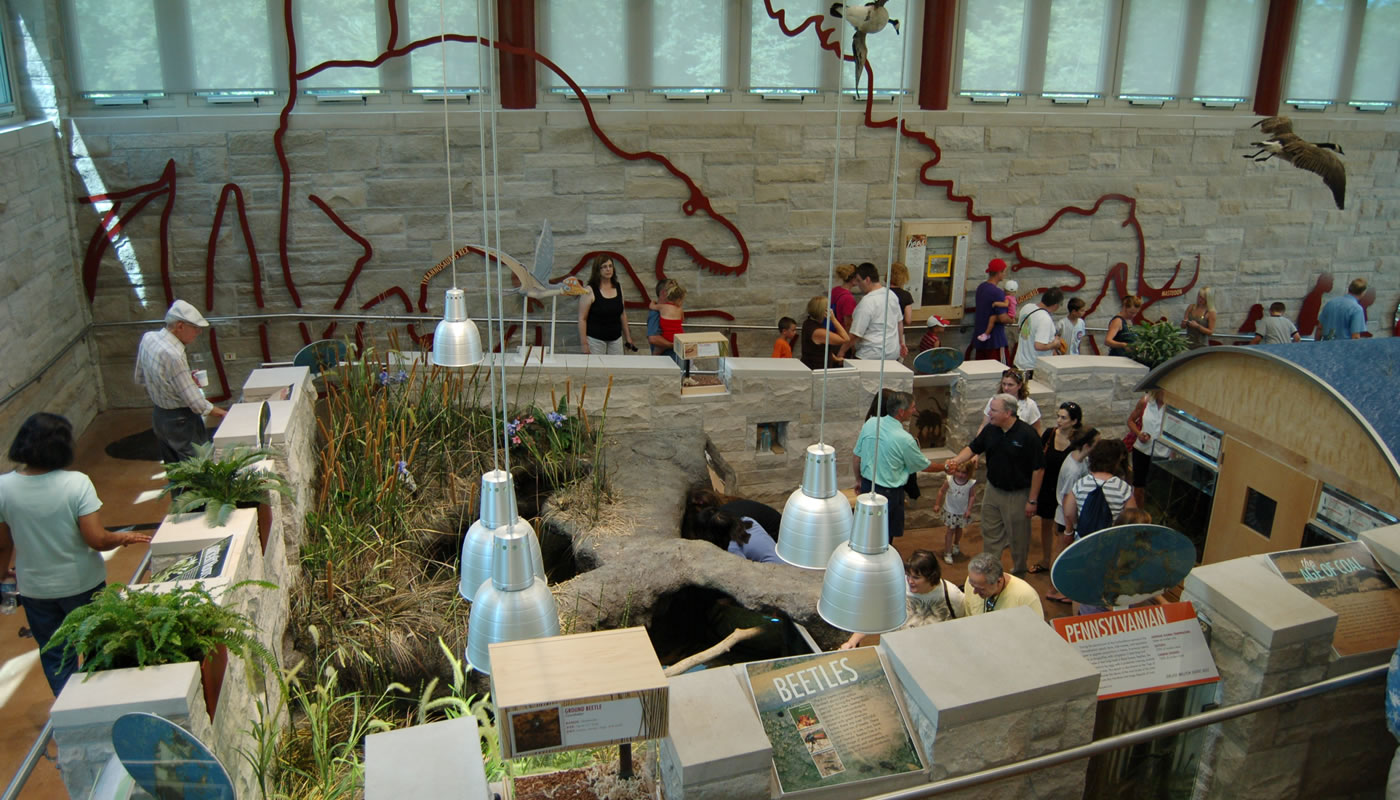 Location, Hours & Things to Do
Little Red Schoolhouse Nature Center
Entrance
9800 Willow Springs Rd
Willow Springs, IL 60480
Phone
708-839-6897
Things to Do & Amenities
Parking

Nature Play

Accessible Indoor Bathroom

No Fishing
Service dogs are allowed at most public locations. View accessibility policies.
Hours
Mar - Oct:
9am - 5pm, closed Fridays
Nov - Feb:
9am - 4pm, closed Fridays
Closed Thanksgiving, Christmas, New Year's Day
Closures & Alerts
---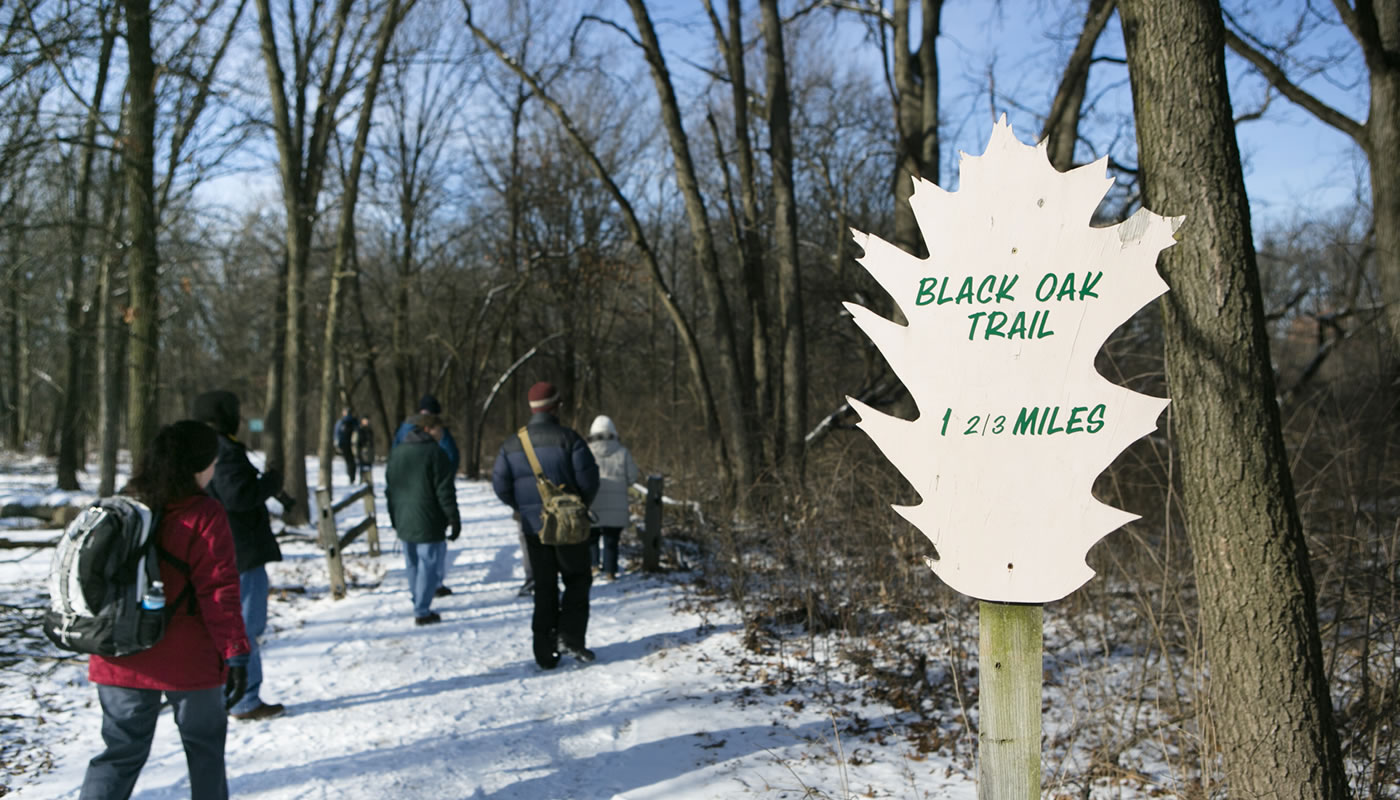 Trails
Little Red Schoolhouse Nature Center Trails
Explore the Little Red Schoolhouse grounds on three unpaved walking trails or the paved accessible garden trail. Connect to the Palos Trail System to extend your walk.
Location: Willow Springs
Surface
Paved & Unpaved
Estimated Total Length
2.5 miles
Hours
Mar - Oct:
8 am - 5 pm
Nov - Feb:
8 am - 4 pm
Closed Thanksgiving, Christmas, New Year's Day
Closures & Alerts
---
The extensive and varied Palos Trail System winds through rolling hills and deep ravines, providing beautiful views of the surrounding landscapes.
Location: Hickory Hills, Justice, Palos Hills & Willow Springs
Surface
Unpaved
Estimated Total Length
42.1 miles
Hours
Year-round:
Sunrise to Sunset
Closures & Alerts
---
Events & Programs
---
Field Trips & Hybrid Learning
Our hybrid learning and field trip offerings allow teachers, parents and youth leaders to use forest preserves and nature centers as an outdoor (or virtual) classroom. Our hybrid learning programs serve kindergarten through 12th grade students and meet Next Generation Science Standards (NGSS), while our field trips serve everyone from pre-K to adult learners.
Contact one of our nature centers or experience.nature@cookcountyil.gov for more information or to discuss programs tailored to your learning objectives.
Little Red Schoolhouse Nature Center
9800 Willow Springs Rd
708-839-6897
---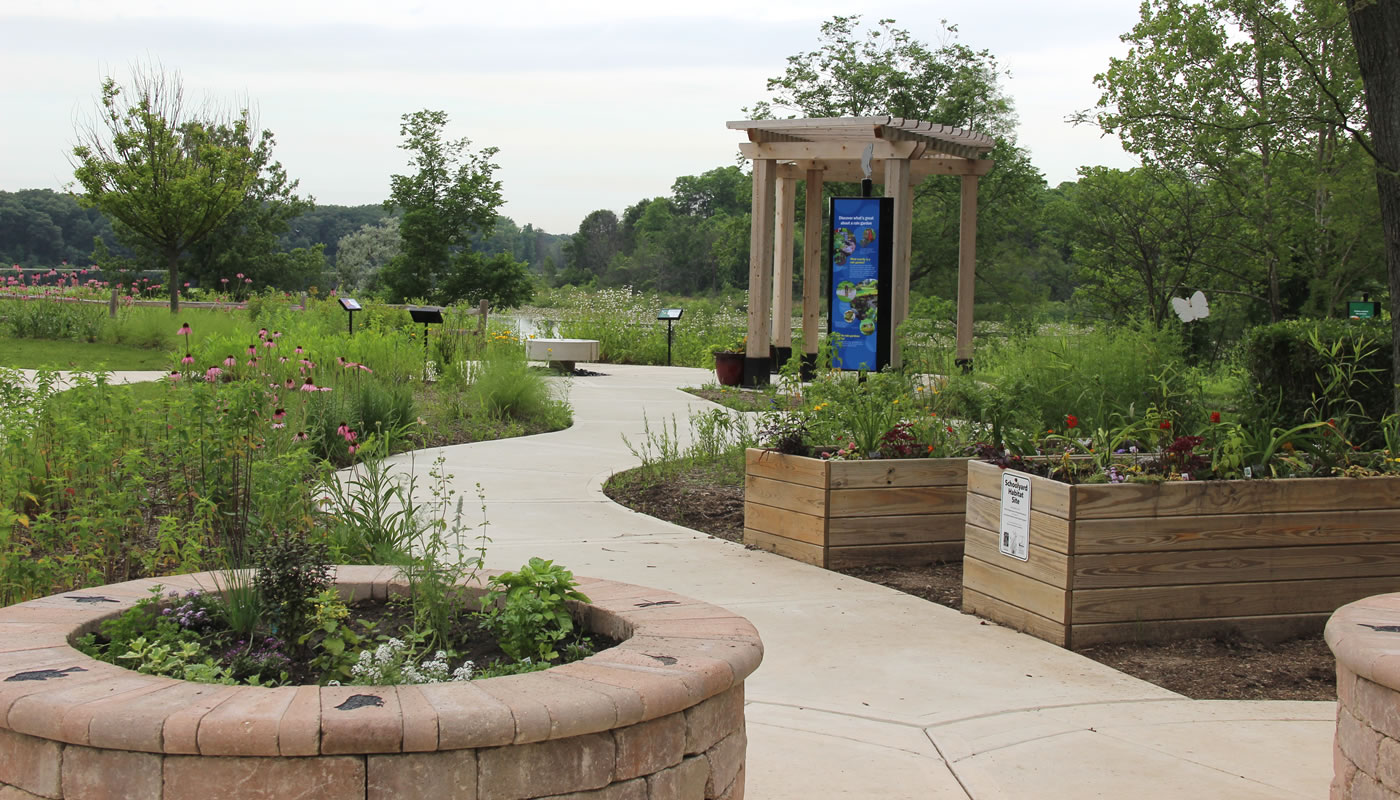 Accessible Garden
This 6,000-square-foot garden with accessible trail encourages people of all abilities to physically interact with nature. The garden features several flower beds (five of them are raised and accessible), interpretive signage lining an ADA compliant concrete walkway and a sensory water feature.

The interpretive signs throughout the garden describe native plants and animals, with each name featured in tactile English letters alongside Spanish, Polish, Braille and American Sign Language translations.

From the garden, the accessible trail winds through the prairie and down to Long John Slough, inspiring people to immerse themselves in nature, rather than just observe it from the sidelines. The path is just under a half-mile long and is 100% ADA compliant.
---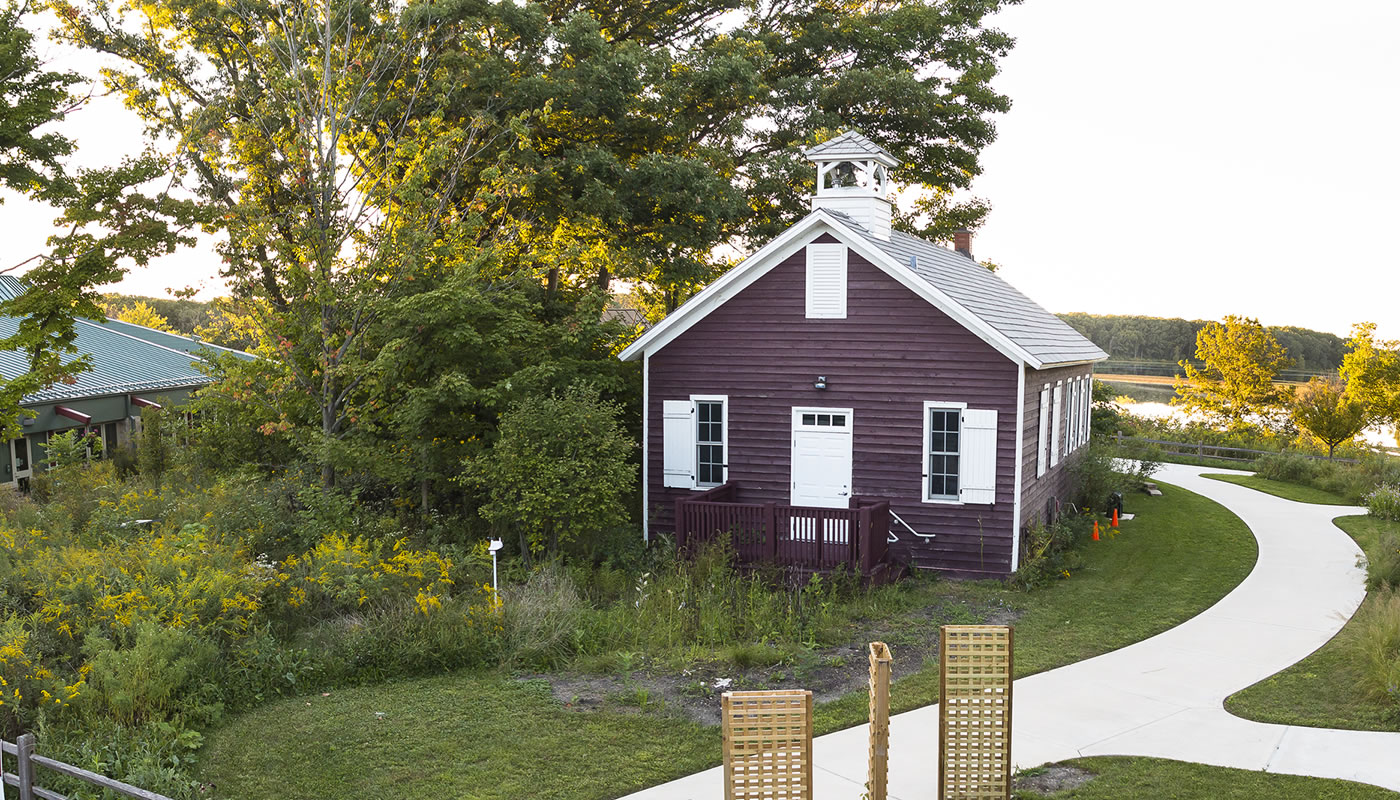 History
Visitors can connect with the historic past of the Palos Hills at the Little Red Schoolhouse. Built in 1886 amidst farms, woods and prairie, the schoolhouse replaced a log cabin school and hosted generations of children. Originally located on the Black Oak Trail at old 99th Street, the schoolhouse was moved in 1932 to Camp Kiwanis by a local resident using horses and log rollers. Classes continued there until 1948.
In 1952 it was moved to its present site, and in 1955 reopened as a unique, new kind of school. In place of reading, writing and arithmetic, children and adults learn about plants, animals and the natural world around us.
---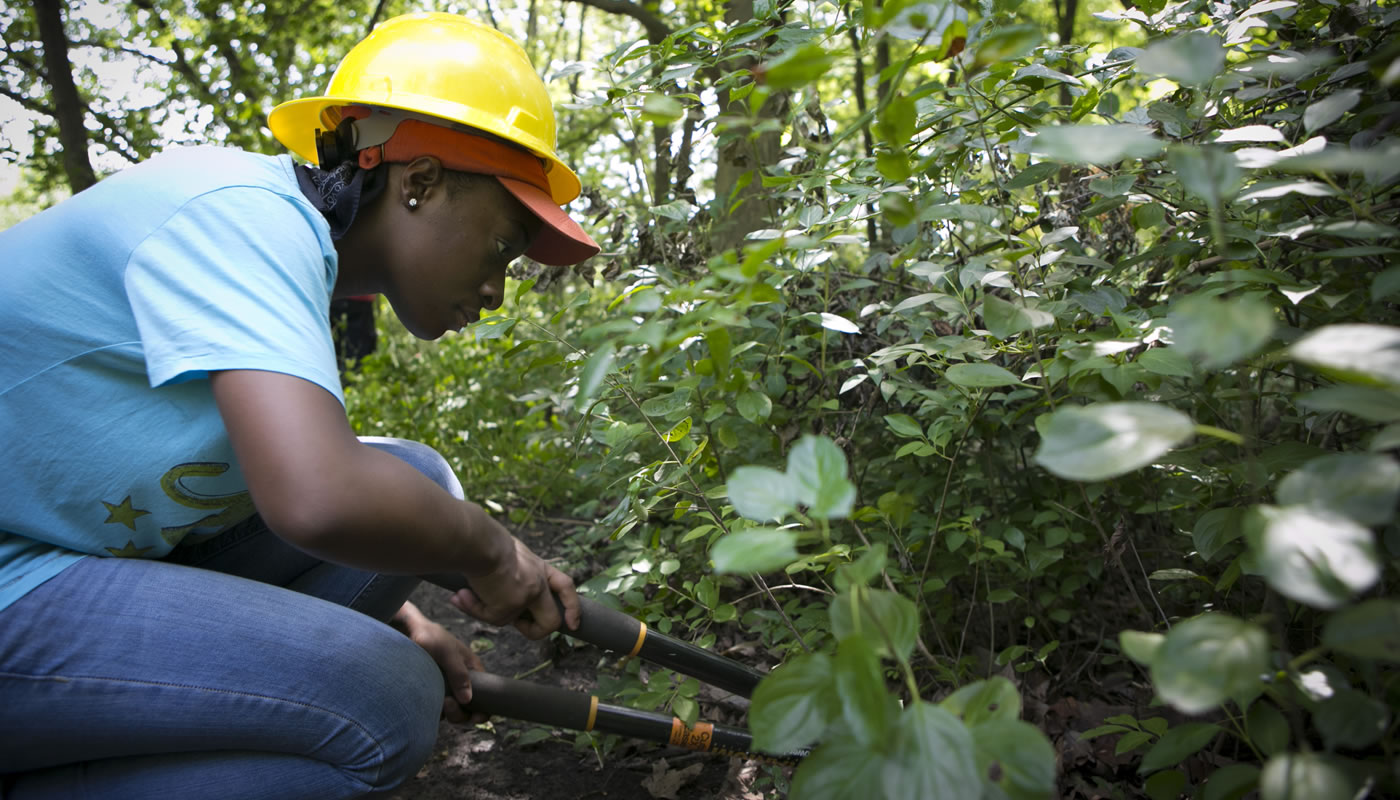 Volunteer Opportunities
Did you know the oak woodland is more endangered than the tropical rain forest? Help remove invasive plants so the oaks can have sunlight and space once again. Gloves, tools, goggles, and light refreshments are provided.
---
Nature Center Rules
Pets are not permitted on Nature Center grounds, including the parking lots.
Nature Centers are unable to accept injured, orphaned or abandoned wildlife.
For your safety and for the protection of natural areas, please stay on marked trails. Trails are for hiking only.
Bicycles are only allowed in Nature Center parking lots, or at provided bike racks.
For the benefit of other visitors and wildlife, please maintain respectful noise levels at all times.
Picnicking is not permitted on Nature Center grounds. An adjacent picnic grove can be opened for pre-registered groups on weekdays.
Food or drink is not permitted in Nature Center buildings.
With the exception of water or sports bottles, food and drink are not permitted on Nature Center trails. Please dispose of litter in proper receptacles.
Collecting of any kind is prohibited, as is the use of metal detectors. The fine for picking wildflowers is $500.
For the protection of animals and visitors alike, please do not feed the wildlife.
Be mindful of closing times for trails, the Nature Center building and parking lot.
Please report safety hazards or suspicious activities to the Nature Center staff.
Cross-country skiing is not permitted on Nature Center trails.