The Salt Creek Trail System's paved and unpaved trails run along the Des Plaines River, Salt Creek and Brookfield Zoo, offering visitors views of a glacial valley, gravelly moraine and Salt Creek's unique pool and riffle environment.
On this page:
---
Overview & Maps
Salt Creek Trail System
Location: Brookfield, Forest View, La Grange Park, Lyons, McCook, North Riverside, Oak Brook, Riverside, Westchester & Western Springs
Surface
Paved & Unpaved
Estimated Total Length
16.4 miles
Hours
Year-round:
Sunrise to Sunset
Closures & Alerts
---
Trail Access
Access the Salt Creek Trail System at any of these forest preserve locations (ordered from West to East). Check out the trail maps listed above to find on-street or bikeway access points.
---
---
---
Brezina Woods
N La Grange Rd, south of W Cermak Rd
(near La Grange Park)
---
---
---
---
---
---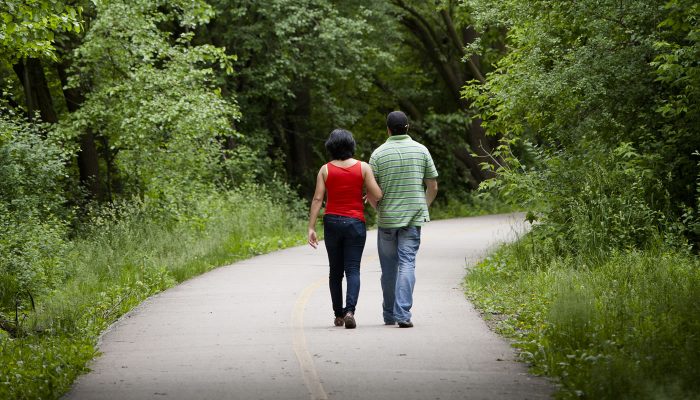 Recommended Hikes
Introductory
Start and end at Bemis Woods-North
Length: 1.7+ miles
Surface: Unpaved
Terrain: Rolling
If you're new to the Salt Creek Trail, start your adventures at Bemis Woods, a 480-acre site offering a wide range of recreational amenities, from trails that meander along the river, to a canoe launch. The Salt Creek divides Bemis Woods into two sections, North and South.

Start at the Bemis Woods-North parking lot and take the pedestrian bridge south over Salt Creek. Head west on the Orange Unpaved Trail for 1.6 miles, until you hit the Green Unpaved Trail (near the end of the Bemis Woods-South parking lot). Then hike northeast on the Green Unpaved Trail back across the pedestrian bridge to Bemis Woods-North.
Various spurs off of the Orange Unpaved Trail allow you to extend your trip to 3 or 4 miles. Be advised that the unpaved trails can be muddy after it rains.
Bemis Woods is excellent for bird watching, thanks to the creek habitat. The best time is usually during migration, from early April to early June and from mid-August to late October.
---
---
Intermediate
Start and end at Brezina Woods
Length: 6 to 8 miles
Surface: Paved
Terrain: Rolling
If you have a bit more time to explore the Salt Creek Trail, pack a picnic lunch and head to Brezina Woods in LaGrange Park. From there you can hike or bike the Red Paved Trail from Brezina Woods east for about 3 miles to Brookfield Zoo, or 4 miles west to the border of DuPage County. It's a scenic path in both directions, as the trail meanders along the river.
---
Brezina Woods
N La Grange Rd, south of W Cermak Rd
(near La Grange Park)
---
Advanced
Start and end at Brookfield Woods
Length: 14+ miles
Surface: Paved
Terrain: Rolling
If you're looking for more of a challenge, the Red Paved Trail starts at Brookfield Woods and heads west to the DuPage County border, just over 7 miles away. This trip will take you through some high-quality natural areas such as Salt Creek Nature Preserve and Bemis Woods.
When you reach the DuPage border you can choose to take the trail either further west or north, where you can connect to the Grand Illinois Trail, or return and spend the afternoon exploring Brookfield Zoo, which is just across 31st street from Brookfield Woods.
---